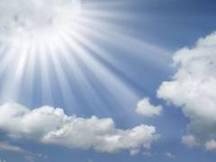 4:00pm ET: It appears as if the market's two day break is over as all of the major averages closed the day in the green. Internals are signaling that the bulls are back in control. Despite a fall in volatility, the VIX (volatility index) is on the positive of side of 12 giving this rally more room to run. I still think we'll see the SPX test the 1650-1670 projected resistance (the exact number is determined by the current P/E estimate). As this will be a major point of resistance, the SPX could make several runs at it before breaking through.
Today's Notable Market Action: Is solar a good bet?
Big action was seen today in many issues but most notably in the makers of solar panels. The Guggenheim Solar etf (TAN, $21.55) rose over 6% to break out of a one year base. Contributing to today's move were major constituents First Solar (FSLR, $49) and Sunpower (SPWR, $18) which comprise 19% and 5% of the funds equity holdings. Both of these stocks rose to new yearly highs on expanding volume, moving 10% and 5% respectively.
But are these companies worth a buy? One author at the Motley Fool thinks that while top-line revenues are increasing, margins are shrinking due to stiff competition and falling chip prices. If you're thinking of adding some sunshine to your portfolio, you should definitely read <a href= beta.fool.com/liorc/2013/05/10/is-it-wor... >this article before making a decision.
Since this space is fairly crowded, some consolidation is probably in order such as what recently happened with Power One (NASDAQ:PWER). Personally, I'd rather take advantage of falling margins and stiff competition by investing in Elon Musk's Solarcity (SCTY, $29) which essentially makes its money by selling power generated by solar panels (provided free to homeowners) back to the power grid. As long as electric companies are forced to buy home-generated power, the Solarcity model should remain viable.
That's it for now. May your weekend be full of sunshine and good weather!