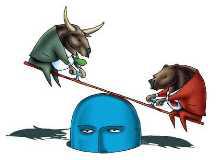 4:00pm ET: The market melt-up appears to have hit a cool spot as selling pressure heats up. At the close, the VWAPs (a measure of institutional buying and selling) on both the positive and negative sides were exactly equal and at elevated levels indicating that the bulls and the bears are duking it out. A pop in the VIX reflects the rising bearish sentiment. Two events this week could push this evenly-weighted bull/bear seesaw to favor one side.
The first is Fed chairman Ben Bernanke's testimony to Congress on Wednesday. This will be important in setting the tone for the markets (particularly the dollar, equities and US treasuries), as traders hunt for clues on when the Fed is likely to ease its rate of asset purchases. The second is the Durable Goods Orders coming out on Friday. Orders are considered a leading indicator of manufacturing activity and we'll need to see some good numbers as the recent Empire State manufacturing numbers and the Philly Fed numbers were disappointing.
Today's Highlights: Solar stocks continue to burn
On Friday we noted the breakout in the Guggenheim Solar etf (TAN, $25). Today, the Market Vectors Solar etf (KWT, $50) followed in its footsteps. The entire space popped on JA Solar's (JASO, $9.5) record earnings announcement showing huge demand for its solar cells in Japan. The news surprised everyone and boosted share price by a whopping 70% on nearly 29 times normal volume! As a rising tide lifts all boats, nearly every stock in the space experienced a surge in both price and volume. Other big winners include Canadian Solar (DSIQ, $9, +17%), LDK Solar (LDK, $1.8, +20%), Hanwa Solar (HSOL, $1.6, +31%), Trina Solar (TSL, $6.8, +20%), Renesola (SOL, $2.5, +18%), and Yingli Green Energy (YGE, $3.1, +13%). Volume on all of these issues has been expanding--a sign that investors and institutions are taking notice. Technically, the charts of YGE, TSL, LDK, and CSIQ are the most compelling, but as always, do your own research first. Adding one or two of these stocks (or one of the etfs) could provide that ray of sunshine that perks up your portfolio.