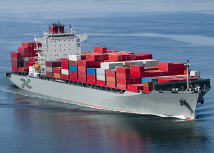 4:00pm ET: Well, the major averages managed to hang in there to makr this the nineteenth successive Tuesday where they are closed in the green. However, the market leading Transport Index (DTX) was the noticeable laggard and the fact that the Trin and the VIX are both rising could spell timeout for the market in the near-term. Tomorrow, the ears of everyone on Wall Street will be pinned to Bernanke's testimony before Congress listening for any shred of a change in monetary policy. Market tone will be guided by the testimony and could either be very quiet or very volatile, depending on what's being said. Could be a profitable day for the day traders or a good one to sleep in. In remembrance of testimonies past, I might just do the latter.
Today's Market Highlights: Marine shippers on the move
The Guggenheim Shipping etf (SEA, $18) gapped out of a five month trading range yesterday on over four times normal volume. Not only did it handily break near-term resistance at $17.50, it also took out long-term resistance at $18. This etf is used as a proxy for the famed Baltic Dry Index which is viewed by economists as a leading indicator of future production and economic growth. The SEA has lagged the overall transportation index (the IYT is an etf proxy for this index) but it appears as if it's now trying to play catch-up. The shippers in particular have suffered much more than their land-based peers and investors are trying to rectify this situation.
Today's biggest movers were Genco Shipping (GNK, $2.10) and Frontline (FRO, $2.46). Both of these gained 17% and 12% respectively as investors piled in. Perhaps not so coincidentally, these two names are also the ones that saw the biggest drops in share value since their 2010 highs, down over 90% from their peak values. Although they're showing signs of life, they do face some near-term resistance--for Genco that's at $2.50 and for Frontline it's in the $2.75 to $3.00 range. A break above those levels could mean clear sailing for a while.
While Genco and Frontline appear poised for growth, they are not major holdings of the SEA. The fund's biggest holdings are foreign-based companies such as Maersk (16%) and several others which only trade on foreign exchanges. US exchange traded members include Navios Maritime and Teekay Tankers, both of which have more than one trading entity. For example, Teekay is listed under Teekay Corp (NYSE:TK), Teekay Offshore (NYSE:TOO), Teekay Tanker (NYSE:TNK), and Teekay LNG (NYSE:TGP). These are different businesses under the same corporate umbrella and detailing their differences is the subject of another article. My point today is just to alert you to the potential growth opportunity in this unloved industry group.