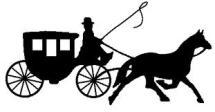 The SPX appears to be forming a downward trending channel with 1650 turning into a key resistance level. If it can't manage to break through that shortly, a retest of 1600 is in order. A drop below this level would signal that the bears have gained control meaning that this summer's market road trip could be a bumpy ride indeed. Today's jump in volatility is indicating that the bears are indeed gaining the upper hand. Unless there's some unexpected good news looming on the horizon, I expect a retest of 1600 before 1650. All of you short-sellers should be gearing up for a breakdown because if it's to happen, it appears as if it will occur sooner rather than later.
One place to look to take on short positions is in coal mining stocks such as Peabody Energy (BTU, $18) and Yanzhou Coal (YZC, $9), both of which gapped below major support levels today to hit new multi-year lows. The coal-based energy era is waning and is being replaced by natural gas and renewable energy sources. Remember what happened to buggy whip makers when the Model T began rolling off the assembly lines!
That's it for now.
Subscriber Notes: There is one new Stock Darling.