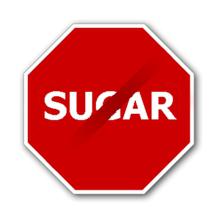 It appears as if the bears weren't able to deliver that one-two punch needed to knock the bulls from the ring. The bullish engulfing candlesticks in the one day charts of most of the major averages (excepting the Nasdaq) and a bounce off recent support levels indicate a second wind for the bulls. On top of that, the Trin still has a ways to fall before entering contrarian land showing that today's rally could easily last through tomorrow. It will take more than a day or two, though, for the bulls to declare victory as the overall direction of the market is still trending down.
Commodities Highlight: One piece of market data that isn't being widely reported is that sugar (SGG, $57.50)continues to slide. It's been falling steadily for about two years, shedding 45% of its value from its July 2011. Recently, the exchange-traded note (NYSE:ETN) fell beneath $58, a major support level. There's minor support around $55 but it sure doesn't appear as if that's likely to hold. Should it not, the stock could easily continue on down to retest its all-time lows in the $35-$40 range. There are options on this vehicle but they're not heavily traded, although there is some action at the $60 put strikes.
Subscriber Notes: There are no new entries but please read today's trading note.