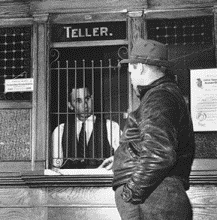 Today's early morning drop triggered massive buying programs which kept the major averages above their current support levels. Volatility sank but surprisingly the Trin remained elevated--could this divergence be a sign that today's buying action will be short-lived?
If this proves to be the case, expect the major averages to drop to their next support levels which are the following: SPX 1550, DTX 590 (minor support) with 580 being major support, DJIA 14450, Nasdaq 3300 (testing now) followed by 3200, and RUT 940 (close to testing) followed by 900. Unfortunately, the VIX closed over 20 today; a close beneath that would have been a small victory for the bulls. For right now, though, the bears are still calling the shots.
Today's market highlights: Regional banks on a roll
One of the few bright spots in this market have been the banks. The reason behind the rally is that banks benefit in a rising interest rate environment (they'll be more willing to lend money if they can get a higher rate of return). In particular, regional banks stand to benefit the most as more of their revenues come from making loans. Six regional banks hit new highs today on heavier than average volume: First Merit (FMER, $19.71), Glacier Bancorp (GBCI, $21.57), Northwest Bank (NWBI, $12.98), Pacwest Bancorp (PACW, $29.24), People's United (PBCT, $14.55), and SVB Financial (SIVB, $80.39). With the exception of SIVB, all of these banks pay dividends mostly in the 3-4.5% range. Their P/E's range from 15 to 20 making them fairly valued with the market. Technically, I find the charts of SIVB, GBCI, and PBCT to be the most compelling. If you're looking for a stable place to park some cash, you may wish to consider putting it in the bank--either physically and/or into banking stocks.
Subscriber Notes: There are no new entries but there is a short-term trade suggestion that appears on the Stock of the Day write-up page and as a special email.