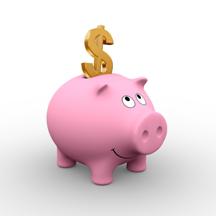 The market followed through on yesterday's bounce but methinks this rally is likely to be short-lived. Despite today's 8% drop in the VIX, it was unable to close under 18 which is proving to be a sturdy level of support. Also, the drop in the Trin to near contrarian levels in intraday trading suggests that the bulls are quickly running out of steam. We could get a rally on tomorrow's open but it wouldn't be a surprise if that quickly fizzled.
Today's Market Highlights: Regional banks continue to shine
In yesterday's blog we noted the rally in regional banks due to the favorable impact of a rising interest rate environment. The party continued today with a rash of banks breaking out to new highs: Cullen Frost Bank (CFR, $66), Columbia Bank (COLB, $23), East West Bancorp (EWBC, $27), Home Bancshares (HOMB, $23), Iberia Bank (IBKC, $54), Independent Bank (INDB, $34), PacWest Bancorp (PACW, $30), Signature Bank (SBNY, $82), Washington Fed (WAFD, $18), Western Alliance (WAL, $15), and Wesbanco (WSBC, $26).
Regional banks are one of the very few industry groups that are poised to do well in a rising interest rate environment and with P/E's still fairly low (most of the above are in the 13 - 19 range) now is the time to get in on the action. On top of that, many of them pay a dividend (typically in the 1-3% range). If profits expand as expected, dividends could increase making these banks even more attractive. If you're looking for a place to park some cash, I'd suggest that you strongly consider this industry group--but do your own research before investing!
Subscriber Notes: There is one new Channeling Stock. Also note that the Channeling Stocks database has been updated.