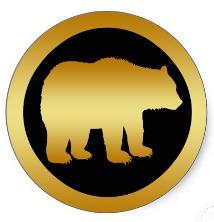 1:20pm ET: As predicted yesterday, the market bounced on the open but hasn't been able to keep up the rally. The intraday pivot levels are suggesting a continuing slide with the only bright spot being the Dow Industrials (DJIA). The other piece of good news is that the VIX has managed to break below the 18 level which has proved in recent days to be an area of strong support. But you bulls shouldn't get your hopes up too much. Buying pressure is light indicating a lack of investor enthusiasm. Right now, there's just no catalyst to push the market higher--perhaps in a couple weeks when earnings season kicks in. If you're a bear, now may be a good time to add to short positions before the next drop.
Today's market action: Precious metals & miners getting buried
The hemorrhaging continues in the precious metals markets as both gold and silver and their miners drop to new multi-year lows. Some of you gold bugs may be itching to jump in here thinking that gold is low at these levels but there's no reason either technically or fundamentally to think the situation will turn around any time soon. China's growth is slowing, Europe is stagnant, and the economic recovery here is slower than pundits predicted late last year. And just two days ago an analyst at Goldman Sachs lowered his 2014 price target on gold to $1050.
It sure appears that the place to be in either the metals or the miners is still on the short side and if you're interested in jumping in, the miners offer better bang for the buck. The reason is that the more gold slides, the more profit margins are squeezed which directly hurts the miners. In general, I don't care for levered etfs but the 3x inverse gold miner etf (DUST, $161) has been a virtual gold mine for the bears. Today it jumped 14%. Compare that with the gold mining etfs, GDX and GDXJ, which lost 5%. Considering today's big jump in the DUST, though, I'd wait for a pull-back before entering.
That's it for today.