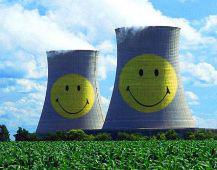 The bears tried to make a stand early this morning but the bulls came charging back with a vengeance pushing all of the major averages into the green. At the helm was the Dow Transport Index (DTX) and that bodes well for a follow-through rally on Monday. The VIX obediently turned back down, closing under 13. It's back in contrarian territory and as I said yesterday, the bulls may not be in the driver's seat for much longer. Investors should strongly consider taking profits while the going is still good and long-term investors may wish to protect core holdings with options puts especially since they're so cheap.
Market Highlights: Short-squeeze in the uranium miners
The biggest action seen today was in the junior uranium mining and exploration companies with USEC (USU) and Uranium Res (NASDAQ:URRE) jumping 37% and 35% respectively. The move in USEC began in early July right after the company executed a 1:25 reverse stock split. That and the fact that Japan is scheduled to open ten nuclear power plants in the near future could have been the catalyst. Just before the reverse split, short interest for USEC was a whopping 69%. The last reported short interest figure I could find for URRE was on 7/15, placing it at 32%, just a few days before that stock popped, too. Smelling fresh blood, the "fast money" piled in fueling the flames even more in both issues.
In reading some of the stock message boards, I'm seeing people who are tempted to join the fray, but this could prove to be a very dangerous move. It's tough to predict when the shorts have all been covered particularly as new short positions are being initiated on the assumption that the short supply is close to drying up and there are no more buyers to be had. Eventually this will prove to be true but trying to time it is the tricky part and I wouldn't advise it unless you're playing with a lot of money you can afford to lose.
A better question to ask is what is the outlook on uranium stocks? Contrary to popular belief following the meltdown in Japan, nuclear power plants are NOT going off the grid; in fact, many countries including Japan, Russia, and Germany (who had said that it would rather explore other options) are opting for nuclear especially as other forms of electricity are becoming either too costly or too environmentally unfriendly. Emerging markets such as China, India, and South Korea are aggressively building reactors and even oil giant Saudi Arabia has plans to build 16 of them. Environmentalists who in past have denounced nuclear as being environmentally unfriendly have done a 180 degree about face as films like Pandora's Promise show that the new design in nuclear is much cleaner and safer than in the past.
Right now uranium prices are low and even with all of the new power plants scheduled to go online in the next few years (60 under current construction with 150 more planned), there's enough of an oversupply to keep the price depressed with some analysts projecting price stagnation until 2016. But right now could be the time for the patient investor to slowly begin building a long position. By far the largest player in the space is Cameco (CCJ, $21) with a market cap of $8B. Like the metal, Cameco's stock has been stagnant but is showing some signs of revival. A break above $23 could be the first entry point, and a break above $25 would give extra legs to the rally and would be the next entry point. For those who want broader exposure, the Global X Uranium ETF (URA, $18.83)is a basket of uranium stocks, though Cameco is its largest holding at 21%. Both Cameco and the Uranium ETF pay dividends yielding just under 2%.