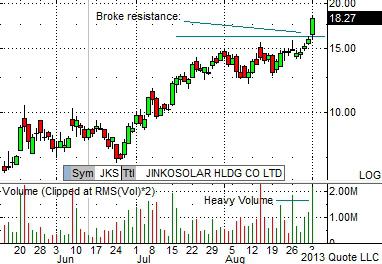 Market Notes: After an all-too-brief respite, I'm back in the blogging saddle--unfortunately, there's not a lot to be particularly cheery about. In my last entry on August 14th, I said that the bears will likely take control when the VIX heads above 15, an event that happened two days later. The general trend since then has been down despite the occasional counterattack by the bulls. I do expect heightened volatility for the next couple of weeks mainly due to Syria and Fed tapering concerns. For an excellent in-depth weekly summary of the markets, I strongly suggest perusing 361 Capital's (free) newsletter available on the company'swebsite or via email (sign up for it on their website).
Chinese solar stocks on fire!
The stocks of four Chinese makers of silicon-based solar panels have been a welcome ray of sunshine in this otherwise dreary market. Shares of Jinko Solar (JKS, $18.27), Renesola (SOL, $5.48), Trina Solar (TSL, $10.23), and Yingli Green Energy ($4.69) have all broken out to new highs in the past two trading days on heavy volume, gaining between 8% and 15% just today!
Why? For one thing, there are very few places left to find value and these companies seem to be one of them. The main reason is that Asian demand for solar panels is exploding. In 2013 alone, Japan and China will account for 40% - 50% of global solar panel consumption and these companies are best positioned to benefit from this surge in demand. Another (and very important) reason is that they all make silicon panels that are much cheaper to produce unlike First Solar's (NASDAQ:FSLR) Cadmium Tellurium panels that (so far) have been funded by the US government. But as these government subsidized projects wind down, expect First Solar's profits to wind down with them. (In fact, First Solar could make a very good short candidate--watch for a break below the $35 support level for an entry point.) Margins for all of these Chinese companies have been rapidly increasing as factories are gearing up to operate at full capacity.
So how long can we expect these solar companies to shine? According to one analyst quoted in this recent Bloomberg article: Growing shipments and increased margins "could drive additional positive earnings momentum as well as share price strength in the near term," noting that more large Chinese solar companies will report profits within the next two to three quarters. I say, shine on!