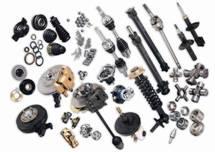 Market Notes: Volume was light today as Wall Street waits on tomorrow's earnings report, delayed because of the recent government shutdown. Trading action was muted ahead of the announcement providing investors will little clue as to what to expect. Despite lackluster action across most sectors, there were a few areas of notable interest.
Lowlights: The oil space has been selling off since it peaked a month and a half ago. Today, two oil etfs broke support: OIL fell below $24 and is now testing major support at $23.50 while USO broke through both the $36.50 and $36 levels on its way to test major support at $35.50. While the oil/gas drillers and explorers have appeared to be immune to this bearish action in the underlying commodity, today's topping tails seen in many of their etfs (XOP, IEO, XES, PSJ, OIH) indicate that buying pressure is drying up. If you're long stocks in any of these areas, now is the time to set trailing stop losses.
Coffee (JO, $22.85) continues to get ground up. This commodity etf has shed over 70% from its 2011 peak value and continues to hit new all-time lows (since the fund's 2005 inception). And yet Starbuck's still charges over $4 for a latte! Their margins had better be increasing...
Highlights: Shares of Apple Computer (AAPL, $521) broke out of a cup-and-handle base on slightly heavier than normal volume. The company is putting on its annual pre-holiday gadget show tomorrow which could be the reason investors are getting fired up (and today's upgrade probably didn't hurt, either.)
The auto component space has also been garnering a lot of investor attention. The following stocks have been in strong uptrends with increasing volume and broke out to new highs today on strong volume: 1. GNTX ($27.59, +3.5%)--makes dimmable mirrors for cars and planes; 2. CXDC ($5.54, +10.1%)--Chinese maker of plastic auto trim and components; 3. QTWW ($5.40, +6.7%)--provides CNG storage tanks and fuel systems for hydrogen, electric, and hybrid cars; 4. SORL ($5.27, +12.1%)--Chinese brake maker to automobile OEM's and aftermarkets. I'm not sure why these companies are in the spotlight other than they appear to be undervalued, and finding a company that is undervalued is becoming increasingly difficult in this frothy market.