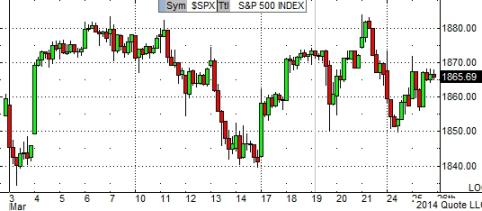 The major averages have been range-bound since the beginning of the month. The 60 minute chart of the S&P 500 above exemplifies this action. While this lack of market action may be putting some to sleep, it doesn't mean that nothing isn't happening. Market internals are showing a rotation out of the recent high flying groups (think biotech and "hot" stocks such as Tesla that have enjoyed a massive run-up) and into those that have been beaten down. Emerging markets such as the BRICs (which have been in the toilet) are seeing some inflows and appear to be turning around. The real point of this sideways market action will be when the major averages finally break out of it. Whichever way they finally decide to move--be it up or down--a continuation in that direction is indicated. Here are the key support and resistance levels to be aware of for some of the major averages:
Dow Transports (DTX): 745/762
S&P 500 (SPX): 1840/1880
Dow Industrials (DJIA): 16050/16500
Russell 2000 (RUT): 1170/1210
The only major average that has not been trading sideways is the tech-heavy Nasdaq. Instead, this index has been trending down, likely for the reason given above.