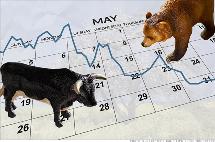 Lately, investors have been steadily moving out of high-flying tech stocks into the safety of long-term government bonds, solid consumer staples and discretionary stocks (tobacky had a good day today), but the money flow has been directed mostly into utilities. Today, that flight to safety was more like a stampede as a vast number of so-called "momentum" tech stocks--think internet and software--got pummeled with a huge number of them breaking under major support levels. Major names breaking down were Amazon (NASDAQ:AMZN), Overstock.com (OKST), Pandora (NYSE:P), LinkedIn (NYSE:LNKD), and Yelp (NYSE:Y).
Investors have been booking profits in these names since the beginning of March which was the time when both the tech-heavy Nasdaq and the small-cap Russell 2000 began trending down. It was right about this time that the utility stocks got their second wind and began their next big move higher. It appears that investors decided the tech space was getting a bit frothy and began transferring their winnings into the safety of utilities--a space that offers safety as well as better yields than bonds. (Most utes pay dividends yielding between 2% to 4%.) Today, sixteen utility companies broke out to new highs carrying the Utility etf, the XLU, along with them. Buying pressure in these issues is still strong indicating that further price appreciation is in the offing but buying interest could begin to wane should valuations creep up much higher as most companies are now fairly valued.
Looking forward, market technicals are leaning in favor of the bears. The Dow Transport Index (DTX), a recognized leader in market direction, today broke below support at 760. It could easily drop to 740, an area of strong support. As mentioned above, the Nasdaq and the Russell 2000 (RUT), have both been trending lower. The next support level for the Nazzie is at 4000 (currently at 4075) and 1100 for the RUT (currently at 1123). The VIX, however, has been unusually low. It's still hanging below 15 but that may not last too much longer. There's a lot more room for it to move to the upside than the downside--something the bulls don't want to hear. In short, you may want to prepare your portfolio for the "Sell in May and go away" scenario as the likelihood of this event playing out this year is increasing.