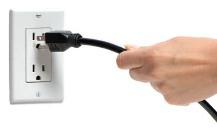 The bulls were able to expand on Friday's rally lead by the Dow Transport Index (DTX). The DTX is now retesting its previous all-time high put in last week. A close above it tomorrow would be a good sign that this rally has legs. The recent sell-off in high-flying tech names such as Tesla (NASDAQ:TSLA), Priceline (NASDAQ:PCLN), Netflix (NASDAQ:NFLX), and Google (GOOG, GOOGL) appears to have come to a halt. What this means is that either investors have had a change of heart or it's a long short-covering rally. The fact that the market is moving higher on light volume (is everyone at Cannes) obfuscates the matter but I'm sure the situation will become clear soon enough.
One thing is for sure, though: Investors are flowing out of utilities. The Utility etf, XLU, has advanced over 17% since the beginning of the year but has been in a swoon since the beginning of May. Today, the stock broke support and appears to heading down with conviction. Its next level of support is about 50 cents lower at $41, and I wouldn't be surprised if it broke below that to retest major support at $38.
So, what's happening with the funds that are going out of the utes? Judging from the list of stocks with strongly positive VWAPs (a measure of buying pressure), it appears as if income-conscious investors are chucking the lower-yielding utes for the higher premiums paid by preferred stocks and high income etfs. Regarding the latter, investors are snapping up shares in several Eaton-Vance high income funds (dividend yield in parentheses): ETW (9.3%), ETV (9%), and ETY (8.8%) along with Virtus Total Return DCA (8.7%), Helios Advantage Income HAV (9%), and Pioneer High Income PHT (9%). All of these have been performing well but they are not without their own risks, so please do your own research before diving in.