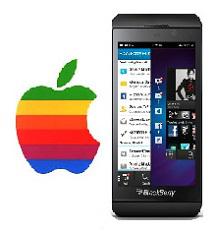 Today's market sell-off wasn't completely unexpected considering that the VIX slid to its lowest level in years last Thursday. The good news is that both the market-leading Dow Transport Index (DTX) and the Dow Industrials (DJIA) both managed to close above near-term support levels. However, if the DTX can't hold the 820 level, expect a drop to intermediate support at 810 and possibly major support at 800. Similarly, should the Dow close below 17000, a drop to the 16750 area would be in the cards. The prognostications of future earnings made by market-leading companies during the upcoming earnings season will likely have a big impact on the final direction of this market. The next couple of weeks could be critical ones, so don't stray too far from your computer!
Today's Tech Winners
Apple (AAPL, $96) broke through $95 resistance on heavier than normal volume. Its all-time split-adjusted high is $100 and it sure appears as if it's going to be testing that level very soon. The stock is cheap (P/E = 16) compared with its peers and I do think that most of the negativity that drove the stock down following the passing of Steve Jobs has been wrung out of the price. The options market is also confirming growing optimism by the expansion in the open interest of call options at higher strikes.
The other technical tech event today was the breakout in wireless communications equipment maker BlackBerry (BBRY, $11.21). The stock has been floundering for a year but lately its chart has turned bullish. Today, the stock broke $11 semi-major resistance on heavier than normal volume (which is tougher to do in the summer because of lower volume in general). It's not out of the woods yet and more risk-adverse investors may wish to wait until it can clear major resistance at $12 before entering a position. Technically, if the stock jumps above the $12 level, it will have made what is known as an "island reversal"-- a very bullish pattern.
While investors gobble up these tech fruits, they're passing on other parts of the food pyramid...
Today's Commodity Losers
Corn (CORN, $28.50) has shucked roughly 45% of its value since early 2013 and dropped to a new four year low today. Also getting cut was Wheat (WEAT, $13.41) which is testing its all-time low put in back in February. Today's sell-off helped to nudge the Grains etn (GRU, $5.45) to a new yearly low. If these bearish charts are indications of an over-supply in both corn and wheat--both used to feed livestock--why is the Livestock etn (COW, $33.58) hitting a new high? Perhaps higher beef prices won't be on the menu for much longer...
Today's Sector Highlight: Food Products
Investors kept with the food theme by bidding up several stocks in the food products industry. Breaking out to new highs today were ag giant Archer Daniels Midland (ADM, $46.5) and Ingredion (INGR, $78.26), a maker of high-fructose corn syrup and specialty starches--America's favorite food additives. On a healthier note, Norwegian based salmon producer Marine Harvest (MHG, $13.87) continued its upward advance to move to yet another new high. Although volume has been heavy in this issue, it's been dissipating as the stock advances. This is typically viewed as a sign that interest is drying up.