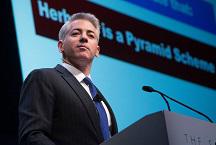 Well, Bill "Egg-on-his-face" Ackman's earlier supposed expose of Herbalife's (NYSE:HLF) business malpractices lit a spark under investors--but in the wrong direction. The facts didn't live up to the hype and the resultant sigh of relief sent Herbalife stock soaring into the close, gaining a whopping 25% on the day. That's the biggest one day rally in years. Adding insult to injury, Herbalife management said they are considering suing Ackman for slander. One wonders if employees of Ackman's Pershing Square Capital aren't quietly dusting off their resumes in fear of a mass exodus out of his funds...
On a tangent note, I do think it may be impossible for Ackman to bring Ponzi-scheme charges against the company. In other previous court decisions, it was decided that multi-level marketing (NYSE:MLM) companies such as Herbalife, Amway, and Nu Skin do not operate as Ponzi schemes if a product is supplied to the end use, as it is in all of these cases. These companies have a battery of highly paid attorneys to keep them on the right side of the law and I have questioned Ackman's motives in going after Herbalife from the very beginning. Even Carl Icahn couldn't find any wrong-doing with it and proved his case by making a tidy profit from buying a chunk of stock and riding it up. (Icahn may have exited his entire position by now.)
Although I've never used Herbalife's products, I have friends who say they are very good and are repeat buyers of their products. As for me, I've been a customer of both Amway and Nu Skin and think they both offer superior products (although Nu Skin's items are a bit pricey). Honestly, I'm not a fan of the MLM concept and I've never met a person in any of the above mentioned companies who was able to make a decent living off of selling MLM products. If these companies are guilty of anything, it would be the way they lure people into being distributors by promising them income streams that are neigh impossible to attain for all but the most savvy and dedicated (and with a lot of time to develop an underlying distributor base). If stretching the truth is a crime, then yes, I would find them all guilty...but not of operating a Ponzi scheme.