Herbalife ($HLF) makes weight management and nutritional products and supplies them through its own network of personal distributors worldwide. Today the company reported record fourth quarter sales along with record earnings and free cash flow. FY12 revenues are expected to expand by 9-10% to $3.77B - $3.83B-that's B for billion, folks. The company is enjoying strong growth especially in the Asia and Central/South America regions with emerging market growth outpacing established markets'. The company boasts an exceptionally high 80% return on equity (ROE) and its P/E of 20 puts it inline with its industry peers. It pays a 1% dividend (which could stand to be raised). One possible negative is that the CEO has been selling a lot of shares in the past couple of months.
The weekly chart of the stock (shown below) is compelling because it finally broke out of its 10 month rangebound pattern to hit a new all-time high of $66. Judging just from the technicals, the stock has room to run to well over $100. The stock has liquid options.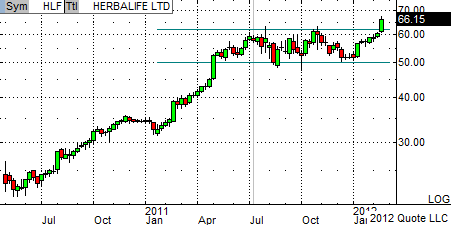 Disclosure: I have no positions in any stocks mentioned, and no plans to initiate any positions within the next 72 hours.