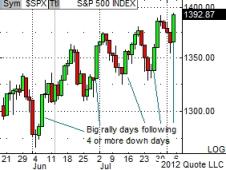 2:35 pm ET: Today's unemployment numbers were both encouraging and discouraging as the private sector added more jobs than expected while unemployment claims rose. Another encouraging sign of economic expansion was the ISM's non-manufacturing index which came in better than expected. While it appears that two positives and one negative equals a positive, I'm not sure that this small ray of hopium is really the cause of today's massive gains.
If you look at the chart of the S&P 500 (SPX) above, you'll see that the index has been trading in a fairly predictable pattern for the past couple of months: four down days (on average) followed by one or more massive up days. Today's move was no exception.
We had an inkling that this might occur by the unusually high Trin reading yesterday (see notes below). Technicians consider Trin's over the 2 level to be bearish contrarian, meaning that a reversal to the upside is imminent. (Conversely, Trins below 0.5 are considered to be bullish contrarian, meaning a reversal to the downside is on the horizon.)
While predicting the market from one day to the next is one thing, trying to predict it over a longer term right now isn't easy as there are conflicting indicators. The S&P and the Dow Industrials (DJIA) are both trending up (bullish); the tech-heavy Nasdaq is stuck in a trading range (neutral); and the Dow Transport Index (DTX) is forming a bearish triangle pattern (a series of lower highs with lows at the 490 - 500 level). The volume-weighted average price (VWAP), a measure of buying and selling pressure (mainly by institutions), has been elevated on both sides indicating that a bull/bear battle is underway.
Until the market finally decides in which direction it wants to go, I don't advise folks to make long-term plays on either side of the fence. Unfortunately, we may not get a resolution to this market struggle until after the election. On the bright side, day-traders and swing traders should be swinging for the fences.
Foreign funds are starting to look attractive
Today's market rally certainly lifted all boats (except the greenback and Treasuries) as this was a "risk-on" event. Commodities, stocks, and foreign currencies are all in the green. Of special note are some foreign etfs that are breaking resistance, all of which pay a dividend around 3%: Germany (NYSEARCA:EWG), Sweden (NYSEARCA:EWD), S. Africa (NYSEARCA:EZA), Emerging Markets (NYSEARCA:PXH), Hong Kong (NYSEARCA:EWH). Those who would like to increase their international stock exposure may wish to consider adding one or more of these to their portfolios.