Opening:
There has been a lot of opinions (I,II,III) out lately that have spread a general fear about VirnetX's (NYSEMKT:VHC) chances of victory over Apple (NASDAQ:AAPL) at the latter's CAFC appeal over the former. None of these articles talk about the extraordinary news VirnetX received in the past few week; a 0.98% ongoing royalty ruling and that newer products are not more than colorably different and thus included within the royalty rate if they utilize FaceTime or VPN on Demand. I have written an article regarding the excellent news, and another author intelligently cleared up much of the confusion related to Apple's appeal with VirnetX. There is one item no one is talking about, Judge Davis's stellar appeal record.
I have backtracked Judge Davis's track record on appeal to provide a more accurate picture of his record than speculating and guessing.
General Appeals Data: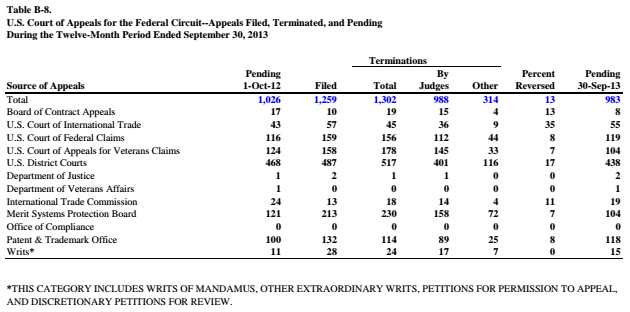 The opinion that Apple will be able to overturn the District Court's jury verdict with ease is misguided. The general data for the U.S. Court of Appeals for the Federal Circuit is that only 13% of cases are reversed. This is a very small number to begin with and can act as a guideline as we get more judge specific, namely Judge Davis who presided over this and all of VirnetX's cases at the District Court level.
Judge Davis's Record:
Judge Davis is the judge presiding over all of VirnetX's cases in District Court - including the first and second cases against Apple. Here is a startling statistic that may make shorts shake a little: from September 24, 2007 through January 16, 2013 Judge Davis has a complete affirmation rate of 81%, an affirmed in part rate of 19% and zero cases completely reversed. Additionally of the 19% of the cases that were only affirmed in part, the CAFC has never remanded or reversed a jury determination of damages. This is over the course of six years, spanning 26 cases. Judge Davis's reputation is not only demonstrated in his orders, but in his raw statistics as a judge. If Apple thinks it will be a walk in the park to get their case reversed, they may want to think again.
The Raw Data:
This public information on the Judge's history reveals a startling fact. That Judge Davis, in the last six years, has never been reversed on appeal. Moreover, he has a complete affirmation rate of 81% for these 26 cases. A document that I compiled comprising the list of these 26 cases, with a link to their CAFC order can be found here and viewed below.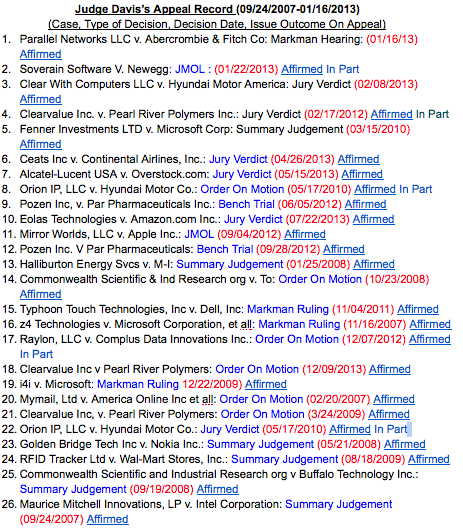 The numbers speak for themselves:
Judge Davis has an 81% complete affirmation on appeal
19% are partially affirmed
0% are completely reversed.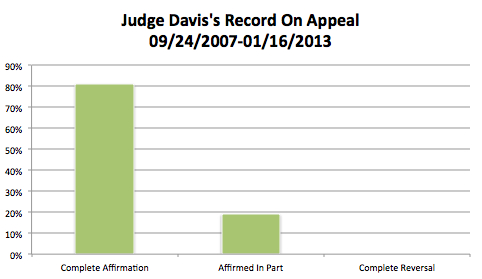 A lot of the confusion lately has been that Apple has a slam dunk case at the CAFC, and the case will be remanded back to Judge Davis. Although keep in mind Judge Davis's stellar record on appeal, and the fact that this has been a very long and in-depth case that he has taken his time on.
Justice Rader's View Of Judge Davis:
Some are of the opinion that Justice Rader may have an ax to grind with Judge Davis, and Apple's appeal with VirnetX can be used as a medium for such a battle. This is not the case as Justice Rader holds Judge Davis to a very high standard.
"And I agree you were fortunate to have one of the finest patent trial judges anywhere in the world."
- Justice Randall Rader Referring to Judge Leonard Davis
The above is a Quote in oral transcripts from CAFC hearing for Fractus V. Samsung that took place on 2/12/2013. Justice Rader is the Judge overseeing Apple's appeal with VirnetX. Justice Rader holds Judge Davis as one of the finest patent trial judges in the world. For another look at how Justice Rader views Judge Davis, jump to 30 minutes and 35 seconds into this recording on Fractus v. Samsung.
Keep in mind as well that the CAFC cannot change the royalty base or the damages amount. All they can do is remand the case back to Judge Davis with new instructions if the appeal is successful.
Conclusion:
Shorts in VirnetX are arguing that Apple will have an easy time overcoming VirnetX on appeal is wrong. Judge Davis has an excellent track record on appeal, with 0 cases within my research timeframe of being completely overturned. Moreover, Justice Rader holds Judge Davis to a very high standard as the two judges are not adversaries but colleagues.
Disclosure: I am long VHC. I wrote this article myself, and it expresses my own opinions. I am not receiving compensation for it (other than from Seeking Alpha). I have no business relationship with any company whose stock is mentioned in this article.
Additional disclosure: This article is in my own personal opinion and is only informative. Always do your own research and contact a financial professional before executing any trades.