Gold is setting new lows again. For physical delivery it fell as much as 4.2 percent to $1,224.18 an ounce, the lowest level seen by traders since August, 2010. Also, gold related stock prices like Goldcorp (NYSE:GG) have shown the holder of the precious metal operating company continuously lower lows. Silver is not holding up well either as evidenced by ishares silver trust ETF (NYSEARCA:SLV). This quarter alone, Silver is down 34% showing the largest drop since the start of circa 1980. Furthermore, in the basket of 24 commodities, silver is by far the worst performer this year on the Standard & Poor GSCI index.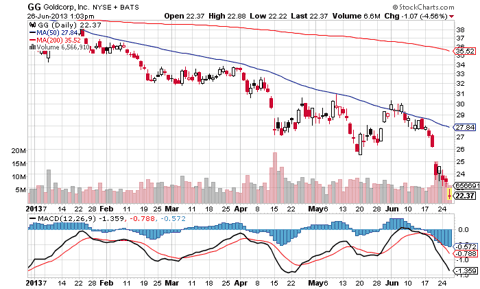 There was talk about a China crash the other day when the china overseas market was off -5%, well, Gold has dropped over 20% percent this quarter alone. Gold bugs have endured one of the largest drops in almost 100 years.
Fed Comments Aren't Helping Gold or Silver:
Last week, Fed Chairman Bernanke reported that the central bank may slow its asset-purchase program this year if the economy continues to improve. In an improving economy generally translates to lower precious metals prices like gold and silver.
There Is No Flight To Safety
Recently, we see that U.S. durable-goods orders rose more than expected, and home sales have advanced to its highest level in almost five years. This points to a sigh or relief on most economic fronts. Consumer confidence is high and improving too, so there really is no cause for concern to buy gold and there is not "flight to safety" seen on the near term horizon.
Silver is Struggling too: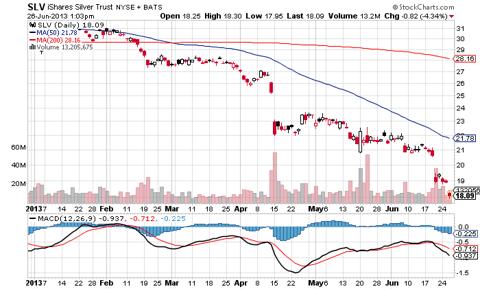 The rise of the dollar rose for the sixth straight session against most major currencies, heading for the longest rally in well over a year now. Also, U.S. economic data is signaling an overall stronger growth pattern, which continues to push the dollar higher. So, overall we are seeing a few blows to the gold and silver bugs rationale who weren't expecting: an improving economy, a rising dollar and no real strong evidence of physical metals buying occurring in the markets. As it stands, these precious metals are clearly in a bear market which started a few months back. Gold bugs pounding the table like last year are almost nowhere to be found. At least not today.
Disclosure: I have no positions in any stocks mentioned, and no plans to initiate any positions within the next 72 hours. I wrote this article myself, and it expresses my own opinions. I am not receiving compensation for it (other than from Seeking Alpha). I have no business relationship with any company whose stock is mentioned in this article.