Company Profile
CONSOL Energy I trading under CNX symbol in NYSE. The company operates in two divisions, Gas and Coal. It is a coal producer that is transforming itself into a natural gas E&P. The company produces natural gas across a wide swath of Appalachia, although growth is focused exclusively in the Marcellus and Utica shale.
In 2013, CONSOL produced roughly 450 million cubic feet of natural gas per day. Coal production after recent asset sales is expected to be approximately 30 million tons per year. 2014 on forward, the company will focus on its natural gas production investing 80% of its CapEx. Expenses for coal will be for maintenance costs.
CONSOL Energy Inc. was founded in 1864 and is headquartered in Canonsburg, Pennsylvania.
Investment Decision
The company trades at 40.04$ per share in Sep 3. 2014. The investment recommendation is to buy. the target stock price is at $59.46 .
Ownership
Major shareholders of the company are listed below :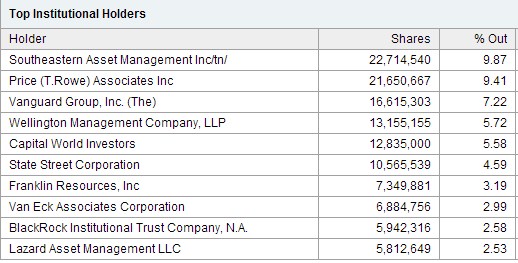 Furthermore, George Soros and Ray Dalio are among the bigger investors in the company based on their funds' 13 F filings to SEC.
Economic moat
The company is trying to do cost leadership both of its sectors. Reducing drill time of the well from 26 to 18. Cost per foot have been decreased by 175$ by foot. The company believes they will keep reducing costs further in the coming years. The company also believes transportation costs will come down. Last year, it was 35mln$.
Financial Analysis
The company has a negavtive cash flow as it keeps investing in gas sector. In 2014, it is expected it will spend around $1.1 billion and 80% of the amount will spend on gas side as it will focus more on gas E&P. However, Coal assets are expected to generate $400-500mln free cash flow from coal assets in the coming years.
Taking 5 year average of P/E ratio of CNX (37.7) is close to Industry average of 36.42. PE ratio is close to industry average. This indicates the company is not expensive and has a future share price potential. Taking into account DCF valuation, I think the price might go to up to 60$ per share.

| | | | | | | | | | | |
| --- | --- | --- | --- | --- | --- | --- | --- | --- | --- | --- |
| KEY Ratios | 2004 | 2005 | 2006 | 2007 | 2008 | 2009 | 2010 | 2011 | 2012 | 2013 |
| P/E | 32,6 | 10,4 | 14,6 | 49,3 | 11,9 | 16,9 | 30,5 | 13,3 | 18,9 | 108,7 |
| P/B | 7,9 | 5,9 | 5,5 | 10,7 | 3,5 | 5,1 | 3,7 | 2,3 | 1,9 | 1,7 |
| Debt/Equity | 7,94 | 3,96 | 4,31 | 4,11 | 4,04 | 3,33 | 3,10 | 2,47 | 2,21 | 1,28 |
| Free Cash Flow | -53 | -114 | -1 | -59 | -32 | 25 | -23 | 145 | -847 | -837 |
| Earnings Per Share USD | 1,09 | 3,13 | 2,2 | 1,45 | 2,4 | 2,95 | 1,6 | 2,76 | 1,7 | 2,87 |
What is more eye catching is the debt/Equity ratio. As liabilities of the company has risen 2 times in 10 years, shareholders equity has risen 10 times during the same period and I think this is a good measure that the company is in the radar of the big institutions. Over the course of the years P/B ratio has declined and the reason behind is book value p. share has gone up almost 8.5 times. There is still potential for value investors. Free Cash flow does not sound good for the couple of years and I think the negative trend will keep going on for at least the next 3 years as the company plans to spend more on its gas exploration and production unit. The company keeps financing its expenditures through loan financing issuing corporate bonds at 6% rather than equity financing. This year $300mln is due on interest and that is a worrying sign.
CNX's beta is at 1.76.
Investment Summary
Currently my view, the stock is mispriced and it has potential to go up in the near term and I do not expect bigger swings in its stock price as risks associated with its business model is not that big in the short term except price changes on natural gas. On the other side, I believe gas prices will not be affected by the world market demand in the near term. On the opposite I think the demand for natural gas might rise due to uneasy political situations with Russia. If more sanctions are imposed on Russia and Russia reduces its gas supplies to EU, this might surge prices on gas and good for CONSOL Energy sales.
Investment Risks
One of the risks of the industry is greenhouse regulations. As more regulations imposed on energy companies that might cause a profit and revenue decline. Additional risk lies at coal and natural gas prices. The company believes it can generate huge profits if natural gas prices are around 4$ mmcfe.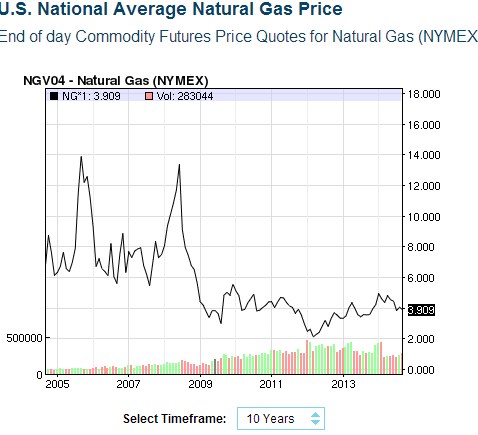 Furthermore, hot weather can impact the demand for the thermal coal during seasons.
Future Outlook
According to the research made by US Energy Information Administration (NYSEMKT:EIA) the future for coal demand will not be weak, vice versa, it will keep rising.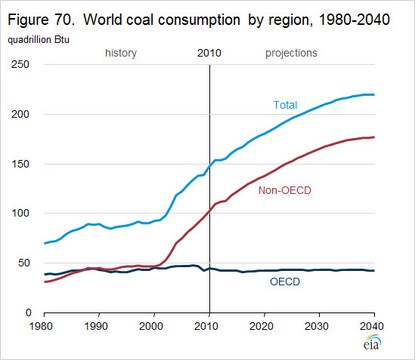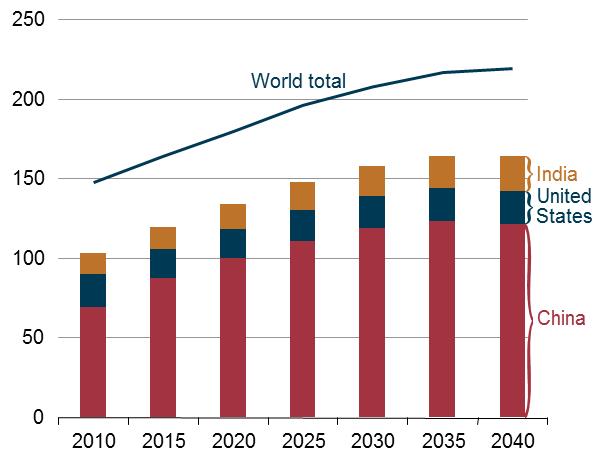 Coal consumption rises 1.3% in average in the world and the US is consuming 14% of it based on US Energy Information Administration3 and it will keep stable till 2040 based on the research. Furthermore, if regulations get eased in the future on Natural gas producers, CONSOL Energy can export its natural gas to new markets. CONSOL expects 30% growth in 2014-2016 in total volumes exceeding 1bln bcf/d by 2016 which is a huge increase if they will be able to achieve that target. I think, that is achievable taking into consideration its CAPEX on gas.
Management
J. Brett Harvey was CEO since 1998, but retired in 2014 but remains executive chairman of the company. His successor is 45-year-old Nick Deluliis, who has been with the company for 23 years.
2 financials.morningstar.com/valuation/pri...
3 www.eia.gov/forecasts/ieo/coal.cfm
Disclosure: The author has no positions in any stocks mentioned, and no plans to initiate any positions within the next 72 hours.