This is the tighest trading range I have seen in the S&P 500 for a long period of time. The market has been perfect for my S&P trading style, selling when it spikes up and makes multiday highs and closing short when it approaches multiday lows. The market is stuck between 930 and 950 for 10 trading days now.

This trading range won`t last for much longer. I expect this trading range to be broken on the downside because so many retail and fund managers are so optimistic and bullish. My view is that there is no one left to buy at these prices and that the economy is not so strong as many hoped it to be.

I have been playing the short side of the market and probably I will keep doing it. If the market keeps trading along these prices I will keep profiting from these fluctuations that lead to nowhere but keep the bulls happy. This trading range is giving a sense of security, a false sense of security to the bull players.

Now, if the market breaks on the downside with expanding volatility this type of trading I have been doing will not fit a one-sided market. If the market breaks, I will not need to be timing my short selling and my buys to cover short. All I will need to do is to sit on my short lines. I won`t have to much trouble doing that being as bearish as I am if I can sell short at the right time. Look at the last 10 candlesticks in the chart below. Quite amazing.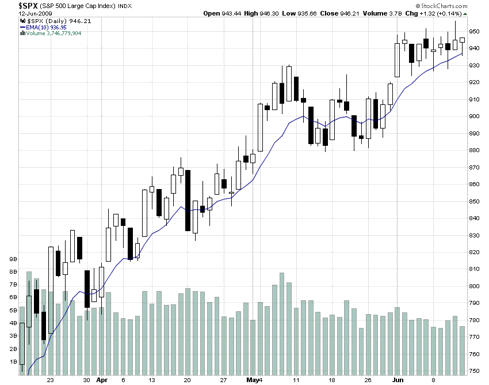 In the graph below we can see that the Average True Range a good measure of volatility is making lows not seen since last summer. Just one more thing. As Art Cashin usually says, bear market rallies die on declining volume. Watch the volume trend in the graph below.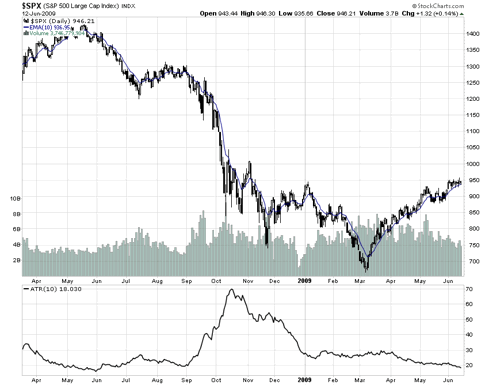 Have a good trading day.
Disclosure: No Positions