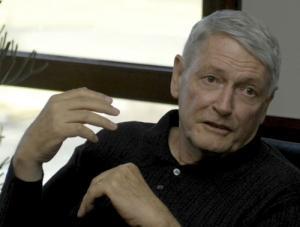 Cable industry pioneer John Malone, founder and chairman of Liberty Media (NASDAQ: LCAPA), spoke with the Denver Business Journal in a three-part interview published on April 27-29, 2009. In the interview, Malone shares some interesting views on the cable industry, Liberty Media, Sirius Satellite Radio (Nasdaq: SIRI), EchoStar (Nasdaq: SATS), and IAC/InterActiveCorp (Nasdaq: IACI). Malone also talks "big picture," putting himself in the camp of those who believe the government's actions are likely to trigger higher inflation.
Malone and Liberty Media are large shareholders or outright owners of a portfolio of media-related businesses, including satellite broadcaster DirecTV (Nasdaq: DTV), Expedia (Nasdaq: EXPE), Home Shopping Network, QVC home shopping channel, Starz Entertainment movie channel, Ticketmaster (Nasdaq: TKTM), and Ascent Media (Nasdaq: ASCMA).
Malone on the market outlook assuming improvement in the credit environment:
"The simplistic thing is if interest rates come back, and cash availability — leverage availability — comes back, then multiples will come back. Entrepreneurs will always be able to take an asset, leverage it up, operate it tightly and make it worth money to them and get good equity returns. If you see debt capacity return, you'll see private equity come in and swallow these businesses that are trading at low multiples because they can generate very high returns. Even if you don't postulate high growth rates, you can generate high equity returns if you can leverage them up. That's why the past four or five years had been huge for private equity."
On the likely solution to the government's debt problem:
"I'm a believer that — and this becomes philosophical as opposed to mathematical — that we will end up monetizing our deficit and monetizing our future commitments as a country. There's just no available source of funding. The administration can talk about raising taxes on rich people, but therich people just aren't very rich any more, in case anybody's looked."
On how Liberty is positioned to take advantage of his macro view:
"...most of Liberty's liabilities are very long term and fixed, and those represent a pretty darned good bet on inflation. Our cash is basically all very liquid, very short term, very safe. We're sitting with cash looking for opportunity and with liabilities looking to be devalued by government policy. That's our philosophical view of how we sit right at the moment. Where we are using cash, we're using it both strategically and with high yields. The Sirius deal is a great example. We're sitting in a senior position in a business that's clearly worth more than the senior liabilities, and [we're] yielding quite attractive current interest rates. So, high yield, senior secured and strategic."
On the competitive landscape today:
On DirecTV versus Comcast: "DirecTV has that national footprint now, which is a huge advantage for DirecTV relative to any cable company, ... even in the case of Comcast, which covers only 22 percent of the country. This is a story yet to play out, because, as 4G, or wireless broadband, comes in and becomes more potent in terms of its data-rate capacities and its ubiquitousness, the bundle of 4G services with satellite and DSL or an enhanced DSL starts to become a very competitive service relative to cable."
On Charlie Ergen of EchoStar (Nasdaq: SATS) and his pursuit of Sirius Satellite Radio (Nasdaq: SIRI): "Nobody's really put Charlie on the couch to figure out why, but the theory is that there may be some applications there for mobile video. They have their terrestrial repeating network, which is 800 sites now, and the frequencies they have. The question is: can you blend that all together? And obviously we're now deeply involved in theSirius thing, and we think we're going to win."
On Liberty's "counter-pursuit&... of Sirius: "Initially it's a financial play, but it's also strategic. Obviously we have a large stake in DirecTV, and how Sirius could play into that is an important consideration, but it's not on the table today. What's on the table today is, let's understand Sirius and its assets. Let's help it avoid either bankruptcy or a takeover by somebody they didn't want to be taken over by, and let's study it for a while and then decide what the right moves forward are. ...if Charlie [Ergen] has a great idea on how to exploit the [Sirius] asset, we may end up doing something with Charlie. Our skills here, internally, are very much in financial engineering. We thought it was an opportunity to use our financial engineering skills to help keep a company alive and independent and see where it goes."
On IAC/InterActiveCorp. (Nasdaq: IACI): "...there's not a lot of downside risk in IAC because the shares are trading pretty close to cash. Even if their operating business turns around, it'll have relatively small effect on their stock value. The real issue in IAC is, what does Barry spend the cash on? If he finds something really terrific, watch us pile back into the stock. If he just sits on the cash, there's no particular reason for us to own the stock. We might as well own the cash ourselves as own a pro rata share of his cash, which is where it trades right now. As Greg [Maffie, Liberty Media's CEO] has said, it really no longer has much strategic element for us. The businesses inside IAC — which are principally Ask.com, which really needs to combine with other search engines; and then there's Match.com, unless we all want dates ... and most of us are married, so Match.com's not really strategic for us — there's really not much in IAC that would be strategic with our businesses. The businesses that [Diller] spun off, on average, are really more synergistic with us than the ones that he kept."
On the IAC/InterActiveCorp. spinoffs completed in 2008: "...the timing couldn't have been worse. You're creating low-cap type businesses that original shareholders couldn't continue to own, so there was a lot of redistribution going on. Those companies are all in a space where the economy is hurting their current results, and their stocks are trading at ridiculously cheap multiples. But you can't buy the company. You can buy some shares."
On the evolution of the cable industry:
On moving out to Denver to join TCI in the early 70s: "I was running the largest division of General Instruments, but — that would've been 1972, so I was 31 years old — and they thought I was too young to be the CEO of GI... I decided it would be better to bring up a young family here than it would in New York..."
On lessons learned at TCI in the 70s: The difficult financing environment taught TCI and Malone to "not expose yourself to one financial source, diversification of every kind, isolation of financial risk, and how to bootstrap. It taught us a lot of things. It taught us survival skills, I think that is the No. 1 thing."
On picking a valuation metric for the nascent cable industry: "We decided... to go on a cash flow metric very much like real estate. Levered cash flow growth became the mantra out here. A number of our eastern competitors early on were still large industrial companies — Westinghouse, GE, — and they were on an earnings metric. It became obvious to us that if you were going to be measured on earnings, it would be real tough to stay in the cable industry and grow. We needed to be measured much more like real estate as an industry."
On using debt as a way to fund growth: TCI and others were expanding by leverage; we were buying assets for cash, basically. It made our earnings look awful, but it meant were sheltered from income tax and we weren't diluting that common equity. ...in the cable industry, if you start generating earnings that means you've stopped growing and the government is now participating in what otherwise should be your growth metric."
On the power of leveraged financing: "I used to say in the cable industry that if your interest rate was lower than your growth rate, your present value is infinite. That's why the cable industry created so many rich guys. It was the combination of tax-sheltered cash-flow growth that was, in effect, growing faster than the interest rate under which you could borrow money. If you do any arithmetic at all, the present value calculation tends toward infinity under that thesis."
On cable operators and content providers: "... [if] there's money flowing in to create programming that's going to differentiate cable from broadcast — we were 100 percent in favor of that. But the downside of that was these entities, be it ESPN or MTV, were going to develop leverage over us and be able to extract large fees."
On content providers capturing a bigger share of the economics: "...there's been a big shift in the economics of the business to the programming conglomerates. Once the government passed retransmission consent, there was this huge sucking sound... It was wealth going from the cable industry to the programming conglomerates, whether it was Disney or News Corp. When all of a sudden, Fox News costs a cable operator a buck a month [per subscriber] and you used to think it was free, all of that is size driven. It's the law of nature. Big bubbles get bigger, small bubbles disappear — it's surface tension, the law of physics; and in business it's scale economics."
In 1999, AT&T acquired Malone's TCI for $46 billion. Following the TCI acquisition, AT&T bought US West cable spinoff MediaOne for $58 billion, outbidding Comcast. On AT&T's decision not to create a tracking stock for TCI -- and the impact of that decision on the MediaOne deal: "...they didn't do a tracker for the cable thing. So right up front, because [of] internal politics inside AT&T, they couldn't get to it. They thought they could live without it. As a result, when the telephone business started to go to hell, they didn't have a currency other than cash. They wanted to keep growing but they didn't have a currency, so their deals — like the MediaOne deal ... that was the Rubicon that they crossed that they shouldn't have crossed — they didn't have a currency to buy MediaOne and to out-compete Comcast, so they did it with a very cash-heavy guaranteed deal: guaranteed their stock price, put too much cash in it and financed all of it with short-term money, all of which was a disaster and led them to have to, basically, liquidate all of AT&T. Great strategy and terrible execution led to what I would regard, personally, as a fiasco."
Disclosure: No positions.