The uptrend the market's been riding for the last two months finally took a breather this week, but does that mean we've seen the end of gains this year? Lots of people, especially technical guys are beginning to think so.
But not so fast… let's take a look at the charts: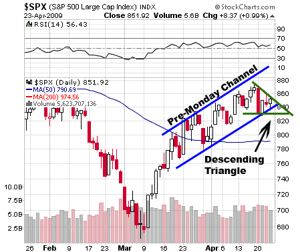 On Monday, the stock market took a big dive on investor fears about financial industry earnings and jobs numbers. That drop signaled a big change in the way the market's been going for quite some time now; it was the largest single-day drop since late February.
Taking a look at the chart above, it's clear how Monday curbed the uptrend. What's also starting to unfold are the technical reasons to worry about more of a drop in May - right now, a descending triangle is starting to form, a bearish signal that the market's due to break out to the downside.
But those who see the patterns alone pushing the markets down in the next week will probably be sorely mistaken. While a bearish chart would normally be a dark cloud, the fact is that fundamentals are carrying the markets right now. Chart patterns are going to be secondary for a while.
Now, that doesn't mean that things are going to be great for the rest of 2009 – the are a lot of fundamental reasons to forecast another pullback in the markets, but I think that the biggest takeaway from this trading week is the fact that once again we're seeing a market that's yet to make up its mind. When it does, we'll see a decisive move one way or another, but until then, there's still a lot more information for investors to digest.
Regardless of what anyone says, suggesting that the market will rise next week or fall next month is pure speculation. Let's just stick to picking Rhino Stocks and leave the guessing games to the gamblers.
Harmful Headlines
As usual, the headlines in the financial media have been anything but helpful in cutting through the clutter of market "news" that's been going around. On Thursday, news outlets grimaced at an increase in new jobless claims for the week, pushing aside the fact that the four-week average of jobless claim initiations – a more trustworthy number actually dropped slightly. That's good.
Earnings announcements continue to be a big deal this week - companies reporting tomorrow include 3M Corp (NYSE:MMM), Ford Motors (NYSE:F), and Schlumberger (NYSE: SLB).
3 Reasons to Watch the Market Next Week
From an earnings perspective, next week should be an interesting one. On April 28, EMCOR Group (NYSE: EME) reports their first quarter earnings. We're up 22% right now on the stock. Also reporting next week is SPX Corporation (NYSE:SPW). The company reports their Q1 earnings on April 29. SPX Corp has been a wild ride of late - we're currently up 2.5% on the stock.
With one of our watchlisted stocks also reporting earnings on April 28, this should make for an interesting week indeed.
Disclosure: EME and SPW are positions in the Rhino Stock Report's model portfolio.