First and foremost today comes an update on our JCOM position. As of this writing, the stock is up 43.3% since I recommended it in the February 2009 issue of the Rhino Stock Report. We're sliding up our current stop loss to $23.80, ensuring a 40% minimum gain on this play.

Since the markets will be closed tomorrow in observance of Good Friday, our normal Firday market update is going out today. And since the markets seem to be moving based on fundamentals this week, I thought we should take a look at a market timeline instead of the traditional technical chart: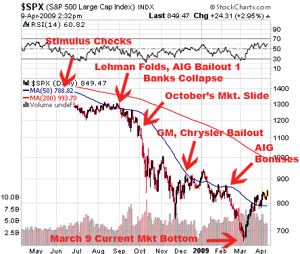 As you can see from the S&P 500 6-month chart above, there's been a lot of news moving the markets in the past two quarters.

The S&P is up 2.28% since last Friday, pushed largely by Wells Fargo's record earnings announcement today. While banking stocks have been out of favor for a while, the revelation that Wells expects to rake in $3 billion in profits sent the sector up in a big way.

The announcement managed to outweigh Wal-Mart's flat sales in March.

It's true that fundamentals seem to once again be taking their rightful place in moving this market. While last week's market predictions still hold, earnings season is bringing a whole new element to how things should stand for the coming week.

Hopefully, investors are beginning to realize that contrary to popular belief, value investing isn't dead (if you haven't read my take on why, click here)... What could be better proof of that than our performance to date?

Position Update

At present, our open positions are up 10.18% on average, lead by j2 Global Communications (NASDAQ:JCOM), up 43.3%, EMCOR Group (NYSE:EME), up 23%.

SPX Corp (SPW) and Computer Sciences Corp (NYSE:CSC) are up 16% and 14% respectively.

What even more exciting is the fact that our original Rhino Stock position, Iconix Brand Group (NASDAQ:ICON) burst into positive gains today, currently up by 3.16%. This stock has been oversold on technicals, and is finally starting to regain ground.

Along with our closed positions, which average 24%, we're looking at total returns of 15% since inception. During that same time, the rest of the market was down 12%.

That means we're outperforming the S&P 500 by 27%. Let's keep those returns coming in 2009.
Disclosure: All stocks mentioned are long positions in the Rhino Stock Report's model portfolio.