A Bankable Feasibility Study (NYSE:BFS) is an independently audited document that analyses all technical and financial risks before the construction of mine including: capital costs, grades, permits, taxation, cash flow, strip ratio, politics, water, power, labour, revenues, royalties, metallurgy, milling and transport.
A positive BFS is a green light to move the project to funding. The level of accuracy is +/- 15%.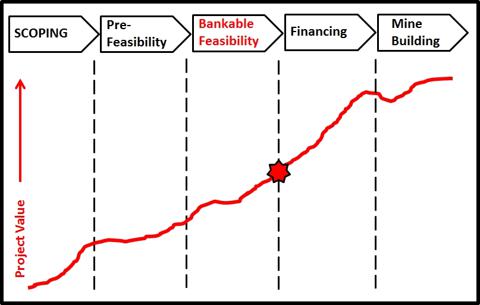 Click to enlarge
Here are 5 projects with positive Bankable Feasibility Studies. They represent opportunities to invest in mature companies - a stone's throw from profitability.
Torex Gold (TXG-TSX) owns 100% of the Morelos Gold Project, located 200 kilometers southwest of Mexico City in the prolific Morelos Gold Belt. The project covers an area of 29,000 hectares of which more than 75% remain unexplored.
The strategy at Torex is to build a high grade open-pit mine which will generate cash to continue exploring additional high grade targets on the Morelos property.
In the last two years Torex has completed 100,000 meters of drilling, advanced government relations, gained community support, secured water rights, expanded M&I resource from 3 million to 5 million ounces and completed the Bankable Feasibility Study.
Torex has established dialogue with 11 core banks including export credit agencies. A high grade deposit with low cash costs create high margin project economics.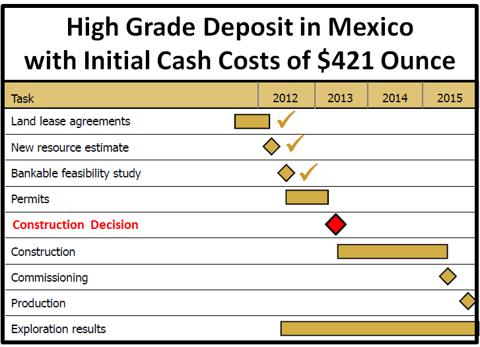 Click to enlarge
Construction at Morelos is anticipated to begin in Q2 2013. A four hour drive from Mexico City on paved roads, the project is accessible, close to a 115kV line and water supply. TXG is currently trading at $2.05 with a market capitalisation of $1.238 billion.
Northern Graphite (NGC-TSX.V) is developing the Bissett Creek property located in Southern Ontario Canada, 15 kilometers from the Trans-Canada highway. The Bankable Feasibility Study was completed in July, 2012. Mine permitting is expected to be completed in the 4Q/2012.
The BFS estimated a probable reserve of 19 million tonnes grading 1.89% Cg based on indicated resources only. Contemplated Life Of Mine is 23 years, producing 20,000 tonnes of graphite concentrate per year. NGC has another 50+ years of inferred resources and has just completed a 3,000m drill program to upgrade the inferred to indicated. This will enable higher grade inferred resources to replace lower grade indicated in the BFS and further enhance the economics of the project.
The waste to ore ratio is 0.50 and operating costs over the first five years of operation are $851/tonne of concentrate. Based on a weighted average price of $2,600 per tonne for the sizes and grades of graphite that will be produced, the pre-tax IRR is 23.1% and the NPV is $151 million (@8%). The capital cost of the mine is $102.9 million including a $9.4 million contingency. Bissett Creek will have the largest flake size and highest purity concentrates in the graphite industry, resulting in premium pricing.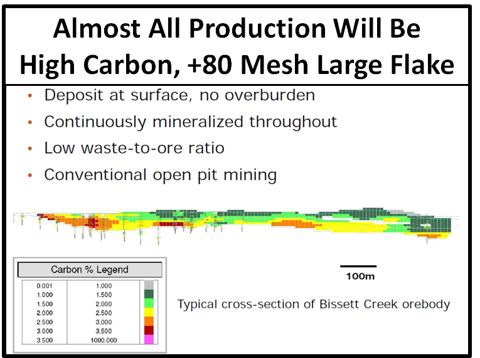 Click to enlarge
Long term shareholder value is amplified by demand growth from China, India and other emerging economies, and from many new applications such as Li ion batteries, fuel cells, vanadium redox batteries and nuclear energy.
Currently 80% of world production comes from China and its production/exports are expected to decline. Northern Graphite is trading close to its 52-week low at .79 with a market capitalisation of $39 million.
Coalspur Mines (CPT-TSX) (CPL-ASX) controls 55,000 hectares of coal exploration leases in the Hinton region of Alberta, Canada - including the Vista Coal Project which contains 20km of continuous gently dipping strike length and a marketable reserve of over 313 million tonnes making it one of the largest undeveloped export-orientated thermal coal projects in North America.
The Bankable Feasibility Study defined a 30 year mine life producing 11.2 million tonnes a year of saleable coal from the processing of 20.4Mtpa of run of mine coal. Phase 1 envisaged production of 5 million tonnes per year at a capital cost of C$864 million. Phase 2 increased production by a further 6.2Mtpa utilizing free cash flow from Phase 1 to fund development.
Coalspur has access to first world infrastructure, being close to CN Rail's underutilized main line which connects to deep-water ports on Canada's west coast. Target markets for the coal are Pacific Rim countries, including China, Japan, and Korea. CPT has secured a port allocation agreement with Ridley Terminals entitling it to 11.7 million tonnes of port allocation for up to 21 years.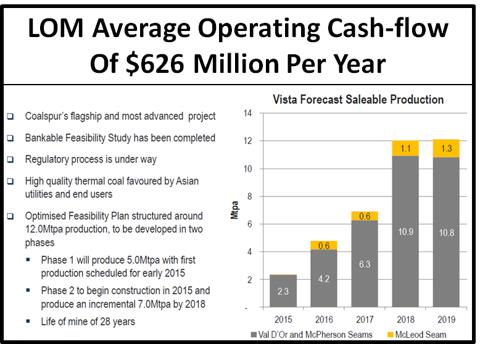 Click to enlarge
Since the release of their BFS Coalspur has increase the production capacity on Vista to 12.0Mtpa and projected development capital to achieve first production in 2015 has recently been reduced by $342 million to $527 million. Permit approvals for a 5 million tonne per year development are expected in Q1, 2013. Coalspur is currently trading at .98 with a market capitalisation of $602 millon.
Reservoir Capital (REO-TSX.V) is a renewable energy company with hydroelectric and geothermal projects in southeast Europe. The Flagship 59.2 MW Brodarevo Hydroelectric Project in Serbia is advancing towards construction.
Brodarevo is a run-of-river project, with minimal social and environmental impacts.
The Bankable Feasibility Study was completed in June 2012. A Bilateral Agreement between the Serbian and Italian Governments has annexed Brodarevo as a qualified project setting in place an incentivized renewable power export rate of €155/MWh.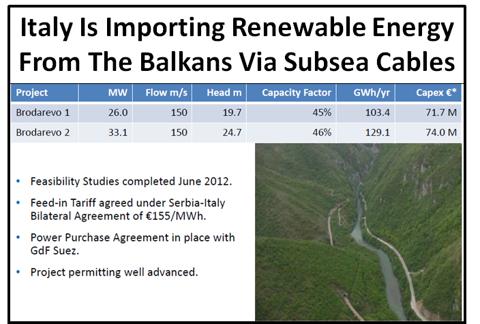 Click to enlarge
REO is employing a proven technology that has been in use for over a century, enhanced by innovations around low impact run-of-river developments.
Grids love hydro because of its flexibility and predictability. The EU has mandated that 20% of its power will be renewable by 2020.
Italy is importing renewable energy from the Balkans via new subsea cables. REO is projecting €146m capital investment into one of the poorest regions of Serbia, the majority of which will be spent on local contractors, creating 1,000 jobs during the 5-year construction period.
Reservoir Capital is currently trading at .15 with a market capitalisation for $7.9 million.
4.) Minco Silver (MSV-TSX.V) is focused on the acquisition and development of the Fuwan Silver deposit in southeastern China.
The Fuwan Silver deposit has a reserve of 9.1 million tonnes averaging 189 g/t Ag, which will support a 3,000 tonne per day operation for 9.2 years. It has an excellent opportunity to expand its mine life along the relatively un-explored 10 km long Fuwan belt.
An important water-monitoring study authorized by Guangdong Province concluded that Minco is in compliance with the requirements of the new National Water Guidelines set out by the Ministry of Environmental Protection of China.
Minco Silver is now updating the Environmental Impact Assessment (NYSEMKT:EIA). Upon approval of the EIA, the Minco will finalize the preliminary mine design.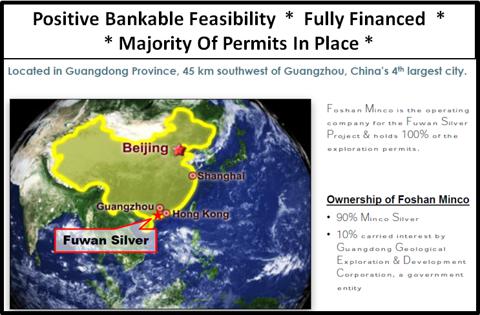 Click to enlarge.
Minco Silver has $68.1 Million Cash in the bank, with access to a $45 million line of credit at Industrial and Commercial Bank of China (ICBC). MSV has 157 million ounces of silver, in all three categories, (55 million probable reserve) an International Bankable Feasibility completed indicating 5.5 million ounces of production per annum at a cost of $5.65 per ounce, (3,000 tpd mill) with a CAPEX of USD$73.
The adjacent Xijiang River provides access to the South China Sea and international shipping. Minco has been approached by several construction companies in Guangzhou to purchase the waste rock material potentially reducing mining costs even further.
Minco Silver is fully financed, nearly fully permitted, with the company currently filing for its administrative EIA, which in China, triggers the mining permit. MSV is currently trading at $1.77 with a market capitalisation of $104 million.
A Bankable Feasibility Study transforms a company from a story to a rigorously tested model. Because BFSs are complex technical documents, investors tend gloss over them. For institutional funds with in-house analytical teams, the BFS is a bible and a crystal ball. It is the ultimate de-risker. Typically the volumes of institutional buying will increase during this phase.
Disclosure: I have no positions in any stocks mentioned, and no plans to initiate any positions within the next 72 hours.