Novo Nordisk (NYSE:NVO) is partnering with Innate Pharma for its immune checkpoint inhibitor by selling full rights to commercialize the Anti-NKG2A drug from its successful Phase 1 trials. Innate Pharma is currently on Phase II testing period.
Synergy with Innate Pharma
You can see Innate Pharma stock went up immediately in February of this year 2014 from this news alone. You don't need to invest in Innate Pharma as they are not the attractive choice but rather Novo Nordisk which offers more revenue streams for their investors with better prospects.
Synergy with Zosano Pharma
Nova has agreed to collaborate with Zosano Pharma to use theirmicroneedle drug patch system to treat type 3 diabetes. The added value and convenience for patients guarantees an increase in market share for diabetes care products.
The Multiple Revenue Streams of Novo Nordisk ...
Aside from the lucrative diabetes drug niche, the company has other revenue sources like haemophilia care, growth hormone therapy and hormone replacement therapy.
Although new products would take some time to reach the market, the steady progress of each drug in these three distinct segments of the company assures investors they have something to look forward to in the future.
The current financial performance of the company is already satisfactory and the innovations are steadily being cranked one after another. There is no distinct or overwhelming threat to the company's ability to produce steady revenue growth which makes it a good candidate for investment.
Other Ongoing Positive Catalysts for the Company
Obesity Drug
Liraglutide 3 successfully completed Phase 3 trials for obesity treatment and the company has filed for regulatory reviews in the US and EU last December2013.
Inflammation Drugs
Anti-IL-21 for Chrohn's disease has entered Phase 2 trials. Anti-NKG2D has entered Phase 2 trials as well.
Growth Hormones on the other hand are still in Phase 1 so let's not count on that yet to make our company analysis conservative.
Demographic Catalysts to support Diabetes Drugs
Since diabetes care is the main revenue source of the company, let's take a look at the growth rate of diabetes patients in the United States.
Diabetes Growth Rate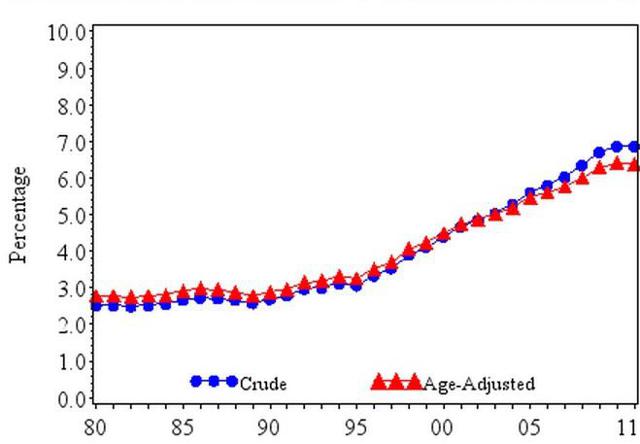 The data was taken from 1980 up to 2011 showing an increase of 176% in the number of diagnosed diabetes patients. It is safe to say that Novo Nordisk would be enjoying a relatively stable market for years to come. The only major risks they are facing right now comes from competitors within the same niche that might come up with a revolutionary product regarding diabetes care.
So far, we have discussed the things in favor for Novo's diabetes drug products but we haven't analyzed the impact of competitors new product offerings in the market. Let's take a look at the following to get a glimpse of what may transpire in the course of competition.
Emerging Threats
The farxiga drug from Bristol and AstraZeneca have been approved by the FDA January of 2014 with the provision that they conduct six post-market studies for various applications with patients of varying medical conditions. Novo's diabetes drug products however, are already entrenched in the market with more moats added constantly in the form of partnerships with allied companies like the one with Zosano Pharma for the drug patch system
Conclusion
In my opinion, the company might not be sure of very long term future success but then again, nothing is anyway. The important thing to consider right now is their favorable position and bright prospects in addition to its existing profitable product segments. The constant innovation of the company assures investors a better probability of continued growth.
In case of any negative events, anyone following the company regularly should be able to see it long before their stock positions suffer. A very simple matter of vigilance over one's investments which should be done anyway without reminders.