Guess what? As some investors fear the Fed tapering talk and are dumping "risky" equities, others are buying them like nothing is happening. One man's trash is another man's treasure right?
"It's actions, not words, that matter."

Nicholas Sparks
June data from State Street Corporation suggests that the risk appetite of institutional investors has been increasing, both in North America and globally. In fact, the 106.8 reading in the Investor Confidence Index is the highest score since March 2010. The index had a robust increase for North America going from 102.6 to 114.0 in one month, signaling that institutions saw the dip in the market as an opportunity to flip the allocation switch to risk-on mode again, instead panicking.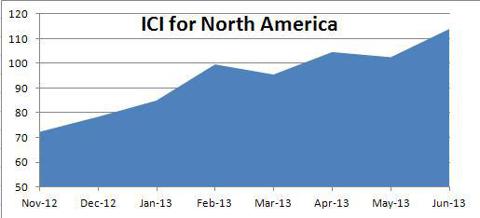 As I mentioned in my last article (Mixed Signals: To Buy or not to Buy?), the trend in inflation readings is pointing hard to the downside. Not a good time for the Fed to slow the pace of purchases. If this trend were to continue at the same pace, we will find ourselves at 0% inflation in about 2 months as measured by the CPI.
Take the performance of the Barclays TIP bonds fund (NYSEARCA:TIP) versus the performance of the Barclays 7-10 yr treasuries fund (NYSEARCA:IEF) as an inflation expectations example. The TIP:IEF ratio is currently lower than the October's low of 2011. Mix the slide in TIP bonds with the ever falling commodities, strong demand for US dollars and weak industrial production and the Fed has the perfect reason to comply with its mandate and fight for the 2% inflation target.
The problem for equities now is the ill-timed, quasi risk-off language by Bernanke in the last FOMC meeting, something that Federal Reserve Bank of St. Louis President James Bullard doesn't agree with either.
For now, the market seems to be taking advantage of the dips. The S&P 500 (NYSEARCA:SPY) bounced off the Fibonacci 38 retracement on June 24. I was a cautious buyer then, and will be a buyer again if the market falls to the Fib 62 retracement level as long as conditions remain similar, specially the Fed open market operations, inflation, US bonds behavior and relative calmness in European bond markets. Until later, trade safe.
Disclosure: I have no positions in any stocks mentioned, and no plans to initiate any positions within the next 72 hours. I wrote this article myself, and it expresses my own opinions. I am not receiving compensation for it (other than from Seeking Alpha). I have no business relationship with any company whose stock is mentioned in this article.
Additional disclosure: Any content in this article should not be considered as a recommendation or investment advice given that financial objectives and individual needs of the end user have not been evaluated. Suggestions or tips are for information purposes only and there is no guarantee on stock returns or market performance. All readers must use their prudence and consult their financial advisors before acting on any of the securities or suggestions mentioned or engaging into any other high risk investment. I do not hold any responsibility and can not be held liable for any losses incurred (if any) by acting on the information provided.