According to technicals, the output of this European meeting will be...
(drums...)
nothing spectacular for the bulls.
An image with a thousand lines speaks a million bears...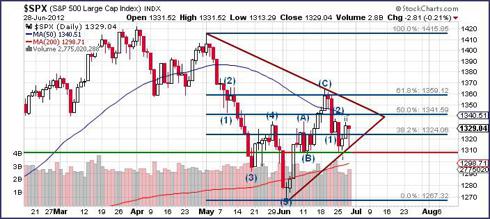 Quick bearish observations:
The market is playing a short-term symmetric triangle, which may mean downward continuation.
The FED speculation rally (which began fiercely with a candlestick pattern that has a close enough resemblance of a morning doji star) did not surpass the 62% Fibonacci resistance.
The 38% Fibonacci support could not hold the disappointment slide.
It is highly probable that the market is just starting the third impulsive fractal inside a third ugly downward wave.
The last candlestick is a "hanging man". What a way to scare the bull army eh?
Ross: [cutting the rope on the tree] Why did they hang him so high?
Cogburn: I do not know. Possibly in the belief it'd make him more dead

- True Grit (movie)
In short, technicals are confirming what we already know:
If the meeting output is not good enough, we are going down (which goes in accordance with the hypothesis I discussed in previous articles). If that turns out to be the case, the bond market will let us know in the coming days/weeks how much stress is needed for the politicians to yield and for the central banks to stop saving their bullets for later.
Disclosure: I have no positions in any stocks mentioned, and no plans to initiate any positions within the next 72 hours.