The Golden Trade 12/15/11
Today the price of Gold (GCG12) has fallen to recent lows triggering a critical technical level from a charting perspective.  With the most recent decline in price a completion of the ever so popular head and shoulders ("H&S") pattern has been defined. As most fund managers and computer models are trading the same chart – others should be aware of the risk reward to the potentially profitable trade.
Setting up the trade
The base of the H&S is at approximately $1,600 with the formation of the left shoulder on 9/30/2011.  The section of the pattern referred to as the "head" peaked at $1,800 on 11/08/2011. The peak of the H&S pattern is critical from a technical charting perspective.  The target price, after an H&S pattern is completed, is the difference in the base of $1,600 to the head of $1,800 on the chart.  Thus, the expected target price of gold would then be $200 lower or $1,400. Ideally, the entry point would have been when the price of gold crossed the base of $1,600 to go short. However, these potential technical formations tend to fluctuate around the support level before heading lower. The ideal entry would be any point under the support level and a stop at the support level if the price retraces higher. There is a high risk/reward trade setting up to go short gold with the proper risk controls. Personally I would never risk more than 1% of trading capital on any trade.  Kindly note this is a short term trade that could potentially never pan out as the price could move higher in the next few days or weeks.  Please refer to the below charts (barchart.com) for additional support and evidence this trade could be quite profitable with minimal risk.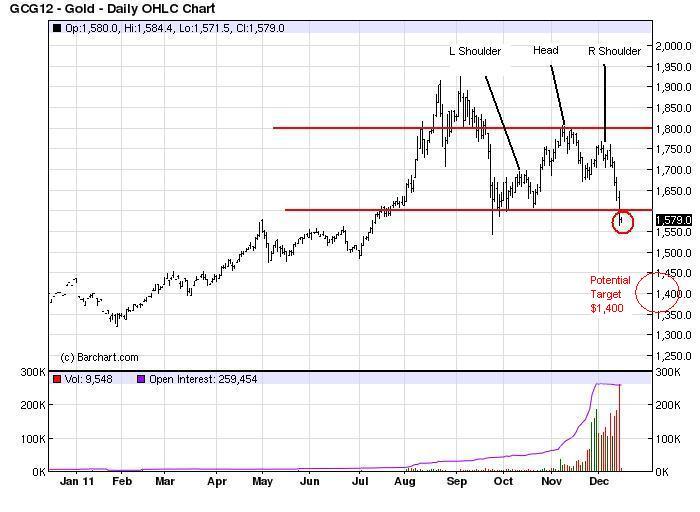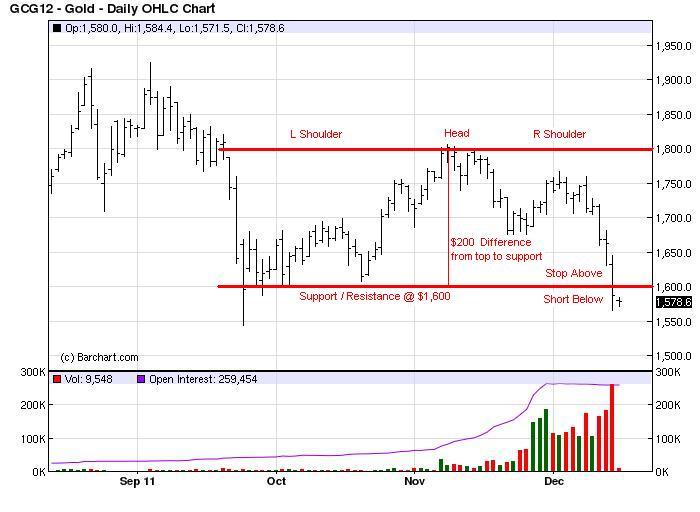 Update to my trade above.........1/16/12
Using my systematic program 1 contract (black text):
1716.8-1583.5 = 133.3 / .1 = 1333 * $10 = $13,330 Gross Profit
Using H&S Trade w/ 3 day MA as the stop (red text):
1600 - 1557.27 = 42.73 / .1 = 427.3 * $10 = $4,273 Gross Profit.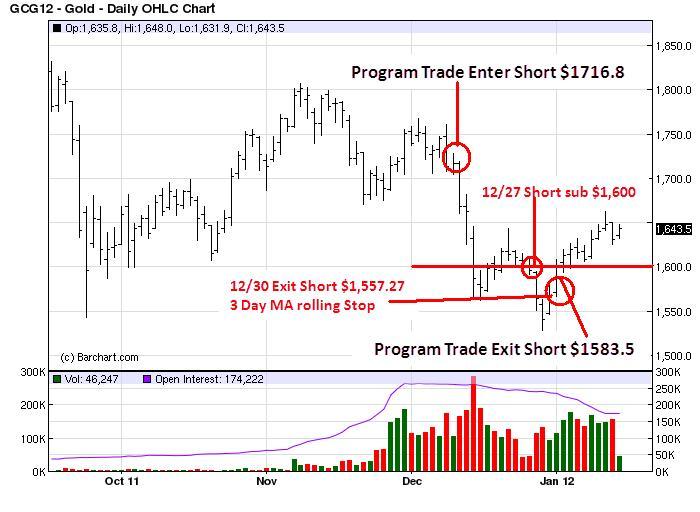 Disclosure:
I have no positions in any stocks mentioned, and no plans to initiate any positions within the next 72 hours.