This should (could?) be fun. It was inspired by a comment I received from a reader on probably one of my most highly-recommended articles to date, Why Apple Should Not Pay A Dividend (Or Do Anything Else Incredibly Stupid).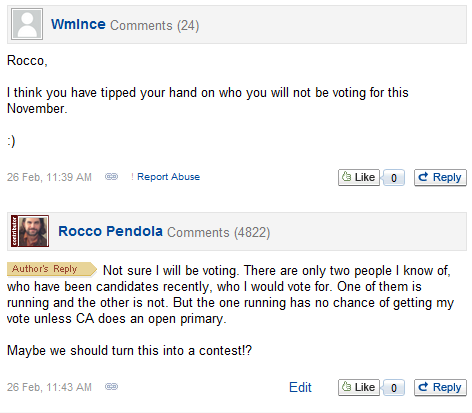 I'm really not sure how the article or anything I said in the comments tipped my political hand, but I could have missed something. That said, regular readers probably have a pretty good idea where I stand politically. In any event, I am not really hard-core political. Even though I was not born until after he was killed, my political hopes, for all intents and purposes, died when RFK did. I just prefer to try to be nice to everybody and consider a whole host of perspectives.
In any event, I am not sure I will vote in November. I refuse to vote for somebody I cannot believe in with at least 3/4 of my heart and mind. That said, I would vote for two people if I could.
Review my comment, reprinted above, and see if you can guess the two folks I would vote for for President of the United States. Both people have somewhat well-publicized or well-known connections to the stock market and/or investing.
The first reader with the correct answer wins a subscription to my option investing newsletter as well as a copy of my basic option strategy eBook.
Of course, you can subscribe to the newsletter now without teasing your brain and receive a free copy of the book in the process at this link.