After reporting earnings that one would easily call a disappointment Amazon's (NASDAQ:AMZN) stock closed today at $272.76 gaining 4.77%, while it rose up to 9% intraday. Welcome to the "Amazon Paradox".
For many investors that pick stocks based on fundamentals, Amazon's price movement has been an absurdity that brings back memories from the dot-com era when new ways to value money-losing companies were invented in order to justify their price movement.
Josh Brown had an excellent post about Amazon called "Amazon.com: Defying Logic And Physics Since 1997". He couldn't have been more on the point.
Amazon's stock has a been a headache for anyone who ever tried to explain its price movement by looking at the company's fundamentals. So you might ask what is going on with this stock? Have analysts missed something or is it just a long-lasting bubble?
Before we answer this question let's take a look at some charts that explain clearly why fundamental-driven investors believe that its price is ridiculously high.
You can easily observe that Amazon's earnings per share and its free cash flow per share are declining for years, and now have been almost wiped out completely. So it seems that investors don't buy Amazon because of its earnings or the cash it generates.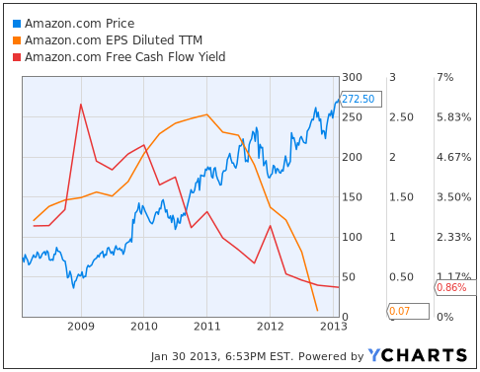 Moving on to the next chart, you can see that the company has been consistently diluting its shareholders due to stock bonuses to its management (part of which is Amazon's founder and biggest shareholder, Mr. Jeff Bezos). Given that and the fact that Amazon pays no dividend it seems that giving back to investors isn't a reason for someone to invest in the stock.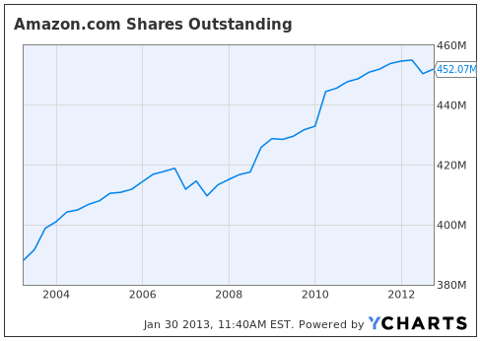 I believe that what drives the stock is a promise. A promise that at some point Amazon will either grow so big that it will be the online retail market itself, or that it will find a way to captivate customers and charge them with higher prices and thus increase its profit margins. The market seems to buy and hope that as long as Amazon's revenue is rising everything is ok and the company is on the path to prosperity.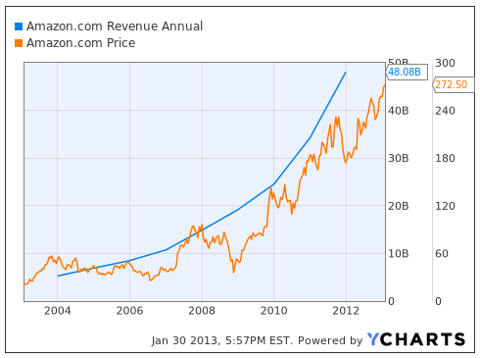 However, this is extremely unlikely for one single reason. There is no barrier of entry for anyone wanting to become an online retailer. The moment that Amazon starts to increase its margins will be the moment when the next Amazon will be born. The only way for Amazon to become a for-profit organization is to become something more than a retailer and sell its own content or products.
However there is no sign that it plans to do something like that, since every new product it launches sells at cost. As I see it Amazon is a non-profit that exists for the benefit of the consumer, its employees and its management.
So what should investors do? Well my recommendation is to stay away from the stock. Don't short it nor buy it unless it is for a trade that last up to a month. Amazon will get interesting for investors when one of the following things happen:
The market gets tired of waiting and punishes the stock by sending it below its book value which currently is below $20 per share. A company that makes no money should worth no more that the value of its assets.
Amazon stops growing which will cause a similar effect.
Jeff Bezos sells his stake, resigns or decides to change the company to a for-profit organization.
Until then though, I wouldn't touch Amazon's stock with a ten-foot pole.
Disclosure: I have no positions in any stocks mentioned, and no plans to initiate any positions within the next 72 hours. I wrote this article myself, and it expresses my own opinions. I am not receiving compensation for it. I have no business relationship with any company whose stock is mentioned in this article.