ATTENTION SA READERS:

First, take a moment to review the two articles published here at Seeking Alpha in late May and early June 2011.  In addition, I have linked three of my blog posts from late June to early July.  
  
Be sure to review the comments that follow each article and blog post.  For your review, I've listed some of my relevant StockTalks posted here at Seeking Alpha in the past 30-days.  
  
Static daily charts from 8/4/11 have also been included below.  Feel free to compare the price data.
   
   
SEEKING ALPHA ARTICLES
   
#1 Biotech Stock ETF Due for a Correction, May 26, 2011
   
#2 Strategies for Pending Biotech Correction, June 6, 2011
  
 
BLOG POSTS AT SEEKING ALPHA
STOCKTALKS
POSTED AT SEEKING ALPHA IN THE PAST 30-DAYS
   
"7/26/11 2A ET: As some know, my calls are early. Equity is overbought. Unchecked buying isn't sustainable. Due: Q3 Correction / Double Dip."

"7/24/11 9:45A ET: S&P, Russell, Healthcare, Tech [96] ETFs have BEARISH patterns. Broader market could fall M. 7/25/11. We like (NASDAQ:QQQ) puts."

"7/14/11 8:55A ET: Near-term, shares of CORN are setting up for a potentially BiG fall. Looking for shares to retest near 200 MA, $40 to $41."

"7/8/11 10P ET: I'm now concerned about economy & can't find reasons to be optimistic about L-T US growth. Current rally not likely to last."

"7/7/11 3P ET: I'm looking for selling into the close. The Bull Run is unsustainable OR I get the dunce hat. IBB, QQQ, SPY, DIA."

"7/7/11 3P ET: The Bull Run looks more like a Bull Trap. While I'm rarely bearish, I'm really bearish now. I may be a fool, but this is nuts."

"7/7/11 2:50P ET: BIOTECH stocks via (NASDAQ:IBB) fell shy of 52-W high of $110.02 this morning. IBB remains overbought & due for correction."

"7/5/11 4P ET: [Notable] 2011 marks the FIRST year in over a DECADE that Biotech (IBB) FAILS to test 200-Day & 50-Week MAs. Hmmm."

"7/5/11 4P ET: BIOTECH (IBB) overbought. NASDAQ (QQQ) overplayed. (NASDAQ:BIIB) resembles 2007-08 minus Icahn. Higher the climb, harder the fall."

"7/5/11 3:30P ET: [TIP OF THE DAY] As put options prices fall, consider adding some or buying more protection. IBB, BIIB, CBST, QQQ"
    
  
STATIC DAILY CHARTS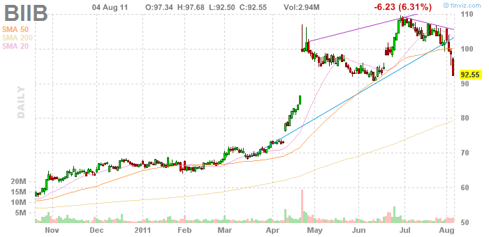 Click to enlarge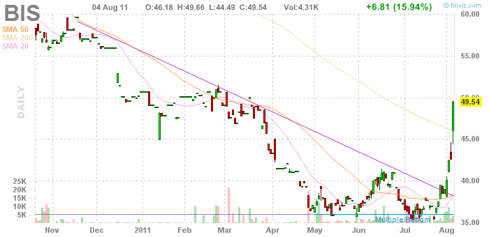 Click to enlarge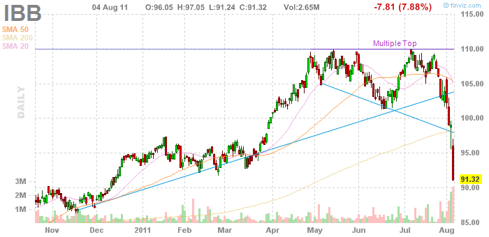 Click to enlarge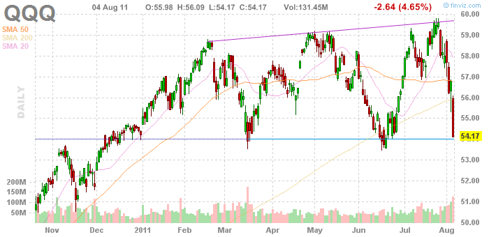 Click to enlarge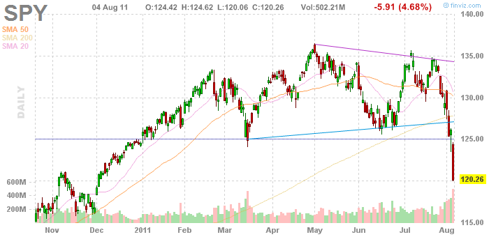 Click to enlarge