2/8/12 | 7:09 AM ET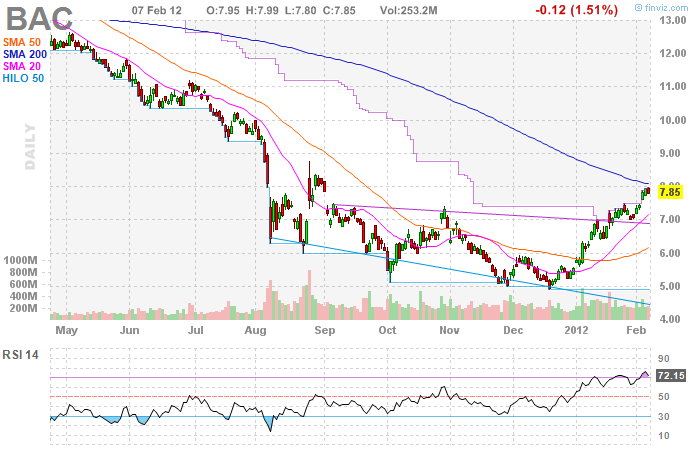 Bank of America (NYSE:BAC)
As BAC nears the $8 mark, shorts have predictably shifted into overdrive. They're wasting both time and energy.
Note to my friends who like to play on the short side of the trade: I anticipate that we will see a bifurcated market sooner than later. Rather than shorting the financials, a 2012 leader, take a look at biotech and consumer staples. Look for defensive stocks to come out of favor in Q2 2012.
In my view, BAC has very limited downside right now.
Here's how I see things playing out in the coming days and weeks:
#1 I anticipate BAC will break above $8, possibly this week. Near-term, look for shares to retest that Buffet high back in September: $8.50-ish
#2 In the back half of February, BAC will likely pullback 10% to 15%, briefly touching down at or near $7.50-ish.
#3 Post pullback, BAC should rebound and hit resistance just shy of that Buffet high, at or near $8.50. Here, I expect shares will consolidate. Trading is likely to appear indecisive. Under this scenario, we're likely to see: (1) uncommitted investors exit stage left AND (2) shorts misinterpret investor indecision as weakness and overplay their hands - yet again.
#4 At some point in March, BAC will shake both weak hands and shorts and head north prior to the Q1 2012 results in April. Just before the report, I am looking for shares to potentially settle at or near the $10.30 area.
Last I checked, analysts were estimating that BAC would report $0.12 EPS in Q1 2012. As I recall, the company reported $0.17 during Q1 2011. At this time, I'd say the odds seem to favor a BAC beat.
With decent Q1 results, I believe BAC could reach as high as $12+ in April-May 2012.
Can I guarantee anything above? Heck no! I presume that adult investors understand the risks and believe they'll exercise good judgment.
If you don't like the common stock, consider BAC near-the-money MAY 2012 and JANUARY 2013 calls. Others are playing BAC's preferred shares and warrants. Do what you are most comfortable with doing.
Over the long haul, I believe that BAC will prove to be a solid investment.
Stay tuned.
Disclosure: I am long BAC.