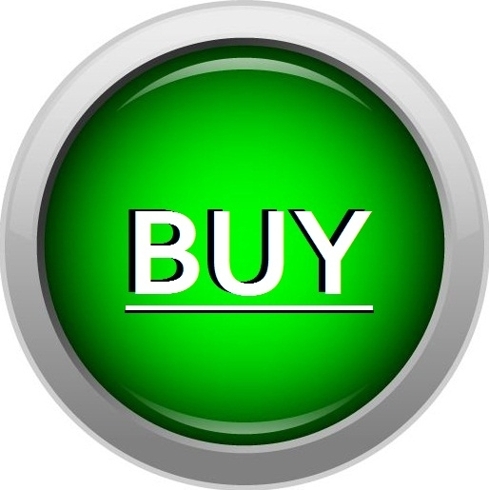 8 STRONG BUYS

 Rx Investors

 7/8/10 10:11 PM ET



(1) Oxigene - OXGN

Trading near cash.  This is the CTIC of 2010-2011, but with better science - VDA's novel mechanism of action.  This is a no-brainer while trading at or  near $0.30.  Potential acquisition target at these levels.

UPDATES

-- 7/15/10: OxiGene: Dirt Cheap, Lots of Potential

-- 7/20/10: A Doc's Take on OxiGene's Ophthalmology Program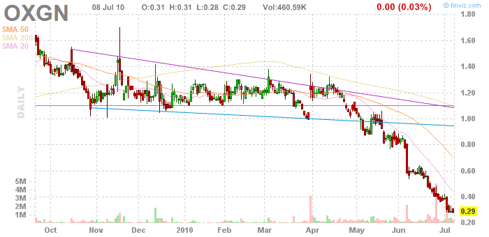 Click to enlarge


SOLD!  (2) Cypress Biosciences - CYPB

Trading at or below cash; sales from Fibromyalgia drug growing albeit somewhat slowly.

UPDATES

-- 7/22/10: I issued a formal sell recommendation for January 2011 $2.50 calls - gain of +140%.

-- 8/2/10: RXI member and friend, David Kieve, reported a +200% gain on the January 2011 $2.50 calls.

-- 11/2010: In late November 2010, a formal sell recommedation was [finally] issued for CYPB's common shares.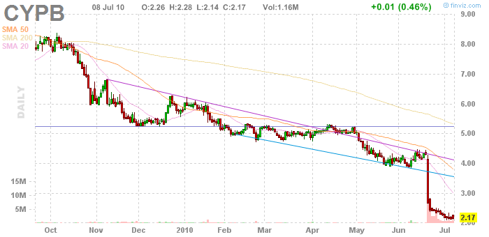 Click to enlarge


SOLD! (3) Vanda Pharmaceuticals - VNDA

Trading at or below cash; recently approved drug for CNS disorder (schizophrenia, as I recall).

UPDATE
Shares of VNDA hit my $10 target on 12/21/10.  While shares are likely to head higher from here, the position has been Closed at Rx Investors.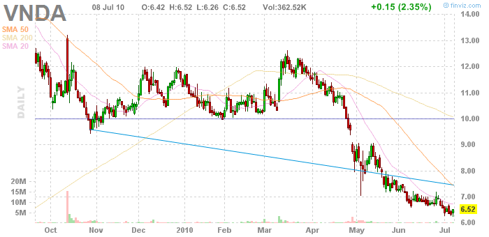 Click to enlarge


(4) Santarus - SNTS

Trading at 4X earnings with pending catalysts in 2010.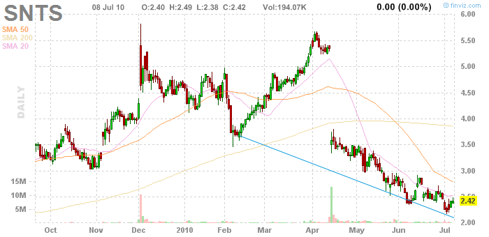 Click to enlarge


SOLD! (5) Genomic Health - GHDX

Diagnostics maker with excellent revenue stream, potential acquisition target

UPDATE

-- 12/2010: In early December 2010, GHDX hit my $20 price target.  After an Open Position hits its target, it's Closed.



Click to enlarge


SOLD! (6) Curis - CRIS

Strong pipeline + the support of Roche-Genentech - RHHBY.

UPDATE

--8/2010: A formal sell recommendation was issued on shares of CRIS at $1.77 for a nominal gain in August 2010.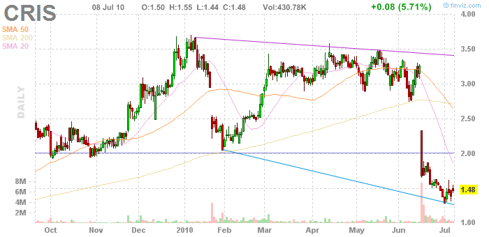 Click to enlarge


(7) Infinity Pharmaceuticals - INFI

Strong pipeline, plenty of cash and a revenue stream coming in from collab's.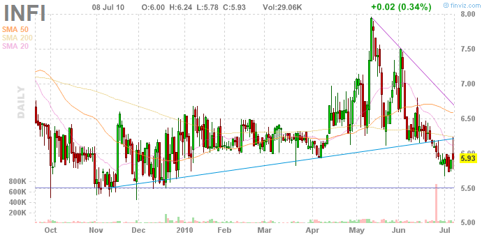 Click to enlarge


(8) Spectrum Pharmaceuticals - SPPI

- Zevalin sales continue to grow Q/Q. 

- Evidence demand is increasing with new German Zevalin supplier, now drug available 6 days rather than 2 days each week.

- 2011: Fusilev FDA decision scheduled for 4/29/11.
  
- 2012: Eoquin and Belinostat - the latter two have HUGE potential for bladder cancer and PTCL respectively.
 
-SPPI remains an acquisition target.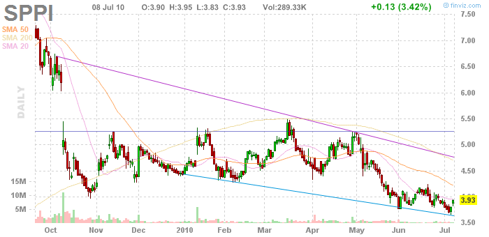 Click to enlarge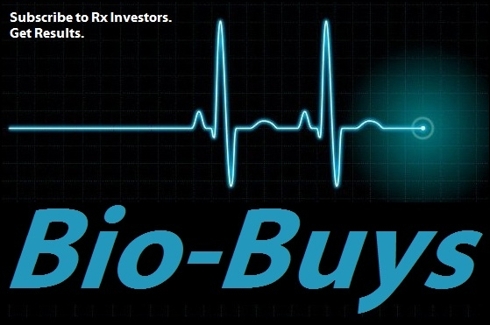 Disclosure: Long SPPI.