After today's outstanding Q2 report, Fuel System Solutions (NASDAQ:FSYS) ended the session up sharply, +17.87%.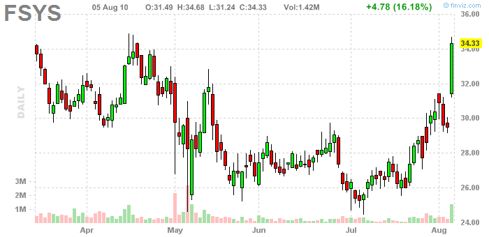 On June 2, 2010, FSYS was recommended as a buy at Rx Investors in addition to six other natural gas plays.  On that day, shares of the company closed at $28.05.  

From June 2 to August 5, 2010, FSYS has advanced approximately 22.4%.


On June 18, sell recommendations were issued for four of the seven June 2 buys in order to lock in quick profits.  The sells included BWP, CHK, NGS and UNG.  Fortunately, all were closed with a modest profit.
Following the June 18 sells, three positions have remained opened - CLNE, FSYS, and GLNG. 
However, this week, FSYS hit and surpassed my $32 price target.  When a buy recommendation hits its price target, it's presumed at
Rx Investors 
to be automatically sold, resulting in a closed position.
Since no sell recommendations have been issued for CLNE and GLNG and that neither has reached their estimated price target, both stocks remain open positions at
RXI
.
At 2:22 AM ET

 this morning, I commented on FSYS and some of the aforementioned natural gas plays here at Seeking Alpha under David White's coverage of (NYSE:

CHK

)

just before FSYS released their Q2 results.
As of
August 5, 2010
, a total of 65 buy recommendations have been issued at
Rx Investors
.  Of the 65 buys, there have been a total of 36 sell recommendations.  That's an average of 3.6 buys and 2 sells recommended per week since
RXI
was launched in mid-March 2010.
Results: 
Disclosure:
No position.