As of late, all I hear is people in the media talking about the move in old tech stocks, and how new money should be put to work in names such as Microsoft Corporation (NASDAQ:MSFT), Cisco Systems, Inc. (NASDAQ:CSCO), Hewlett-Packard Company (NYSE:HPQ) and so on. This should make you wonder, why where the talking heads not saying this while these stocks were 10, 20 and in some cases, over 30% off their highs?
At the beginning of 2013, MSFT Microsoft Corporation (NASDAQ:MSFT) was trading at only $26.28. Since then, the stock has been one of the new leaders in the market, reaching a high of $41.66 earlier this year. That is an unbelievable run, especially for a company of the size of MSFT Microsoft Corporation (NASDAQ:MSFT).
Looking back in time, yes MSFT Microsoft Corporation (NASDAQ:MSFT) was a great bargain at those levels. But remember something important, back then no one wanted to buy MSFT, or so they claimed on the different media outlets. As traders and investors we must always be aware of what is behind the words of these media talking heads. Their main goal is to create hype and get the small investor caught up in the moment. The reason they do that is simple, ratings! They are hosting TV shows, they need people to watch their shows. Or maybe they are selling newspapers, well, someone needs to buy the papers folks. Institutions know the role of the media all too well and use it to feed the public information for their benefit; so they can sell their shares at the highs and buy them back at the lows. For this one simple reason, you should never chase any equity. If a stock has run up on the back of media hype, run away! Learn how to utilize the charts to your advantage by reading them correctly and you will allow yourself to be a buyer when institutions are buying and a seller when they sell.
Let's take a look at the MSFT Microsoft Corporation (NASDAQ:MSFT) chart below and see what it is telling us regarding buying or selling the equity now...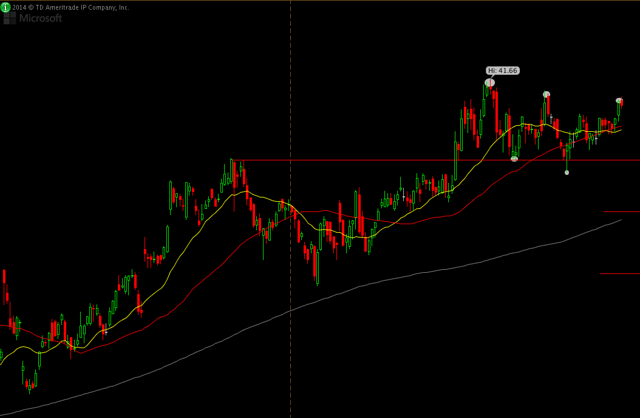 As you can see, MSFT Microsoft Corporation (NASDAQ:MSFT) peaked at a high of $41.66, and it is now trading just a little below that high at $40.79. The PowerShares QQQ Trust, Series 1 (ETF) (NASDAQ:QQQ) recently reached a multi year high of $91.45. However, as noted by the chart above, MSFT has put in lower highs and recently made a new lower low at $38.51, before rallying back intra day to close above an important support level at $38.98.
This is bearish for the equity, and perhaps a sign of distribution. If MSFT Microsoft Corporation (NASDAQ:MSFT) closes below $38.51 on a daily basis, it should quickly fall further. This equity should not be chased at these levels. A level that could be in play for a short term move up from is $37.18. Another level that you can keep on your buy list and will offer an opportunity for a longer term hold, will be the $35.04, depending on how and if MSFT gets there.
Kiliam Lopez
Elite Round Table
InTheMoneyStocks.com