The S&P 500 made a low of 1904.78 on August 7, and has basically gone straight up since that day. If you look at the chart, it has formed a perfect "V" and is looking to challenge its all time high of 1991.39. The Nasdaq has definitely lead the charge higher, crossing the 4500 mark for the first time in 14 years! While the markets have moved higher, I notice that the energy sector (as represented by the Energy Select Sector SPDR (ETF) (NYSEARCA:XLE) has not participated in this rise.
The Energy Select Sector SPDR (ETF) (NYSEARCA:XLE) is a very key sector and was one of the market leaders when the S&P 500 was making new all time highs on a daily basis. The reason for the under performance by this group has primarily been due in large part to the declining price of crude oil, which has fallen by 12% since mid June. This under performance could be foretelling of something that smart investors are not looking at right now.
So is this energy weakness a buying opportunity?
I have included a chart below showing the weekly chart for the Energy Select Sector SPDR (ETF) (NYSEARCA:XLE). As you can see, it is nowhere near its high watermark of $101.52, which was set back on June 23. Does this mean that the sector will play catch up to the broader indexes? Well with summer winding down and the end of the "driving season" fast approaching, I would suspect further downside could be in the tank. The chart is telling us all this, as it is currently forming a bearish pattern. While these markets have had this impressive rally off the lows, this chart clearly shows it could be lacking the needed "energy" to keep it going.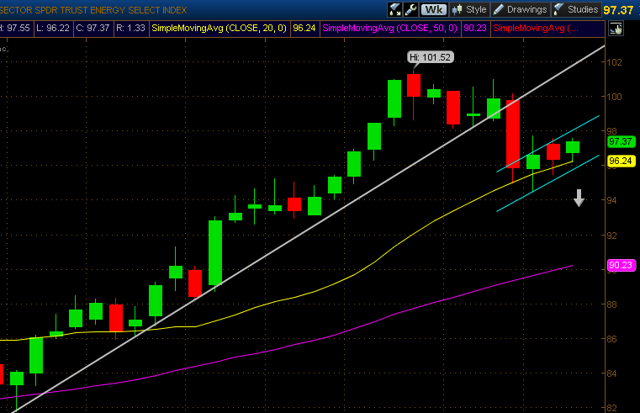 Parm Mann
InTheMoneyStocks.com