This afternoon, the United States Gasoline Fund (NYSEARCA:UGA) is trading higher by $1.12 to $58.28 a share. Last week, on Mach 23, 2012 the UGA made a new 52 week high at $58.63 a share. The current pattern on the daily chart of the UGA remains very strong at this time. The next major resistance levels on the daily chart will be around the $55.50, and $60.00 levels. Surprisingly, the major stock market indexes in the United States have not been adversely affected by the high price of gasoline. Lately, gasoline and the stock markets are trading higher together.
The average price of a gallon of unleaded gasoline at the pump in the U.S. is now $3.93. That number is up from $3.89 a gallon last week. The average price of gasoline in California is now $4.59 a gallon. We can only wonder when the high gas prices will start to have a negative effect on the U.S. economy and the ultimately the stock market.
Most oil refinery stocks will usually trade higher with stronger gasoline prices. Leading oil refinery stocks such as Sunoco Inc (NYSE:SUN), Tesoro Corp (NYSE:TSO), and Valero Energy Corp (NYSE:VLO) are all trading higher on the session.
Nicholas Santiago
InTheMoneyStocks.com
(Click to enlarge)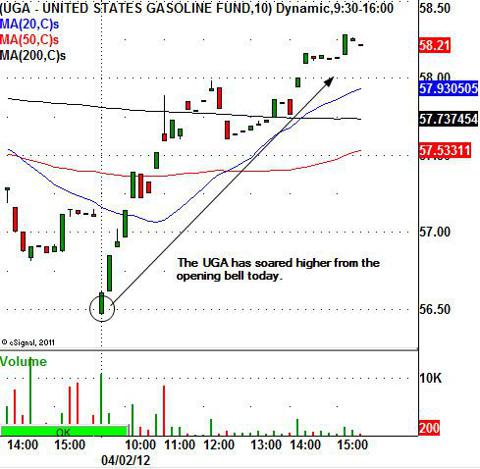 Click to enlarge