The best way to rob a pawn shop is to own one. Or even better, to control a whole chain of them through exclusive ownership of all the voting class B shares of EZPW.
Here is a timeline of EZPW's recent CFO churn. Five people have held the CFO post over the past two years, including the brief five month interim of the Chief Accounting Officer, Mr. Chism, as interim CFO following Mr. Wolfe's sudden departure.
I believe that EZPW is committing accounting control fraud and I am short EZPW.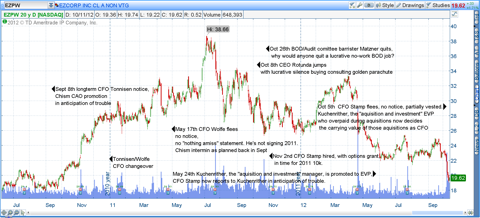 Their auditor BDO LLP has been publicly censured by the PCAOB for audit failures www.scribd.com/doc/109423129/EZPW-and-TNGO-s-Ez-Auditor-Censured-2012-BDO-LLP
Their growth through acquisition strategy involves lots of accounting assumptions, and provides plenty of opportunities to inflate earnings and asset values. All these acquisitions also create opportunities for Morgan Schiff to siphon off cash through expense account embezzlement, fees, etc...
They have the worst corporate governance I've ever seen for an American company, it's as bad as a Chinese RTO. The most recent CFO, Mr. Stamp reported directly to the Executive Vice President in charge of Aquisition and Investment, Mr Kuchenrither. When Mr. Stamp recently fled Mr. Kuchenrither was appointed CFO, so now he is both EVP in charge of Acquisitions and Investment as well as CFO. The fox is guarding the hen house, and there couldn't be a better setting for looting www.jstor.org/discover/10.2307/2534564 through M&A at artificially inflated prices. Mr Kuchenrither now both acquires pawn shops and decides their carrying value thereafter.
Disclosure: I am short EZPW.