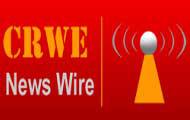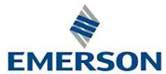 Emerson Electric Co. (NYSE:EMR)
Emerson Process Management, a global business of EMR, has been awarded a $21 million contract to provide integrated control and safety systems for a new BP floating production, storage, and offloading (FPSO) vessel. The new vessel, which will replace the existing Schiehallion FPSO, forms part of the North Sea Quad 204 project that will access the remaining hydrocarbon reservoirs in the Schiehallion and Loyal fields, located approximately 130 kilometers west of Shetland, U.K.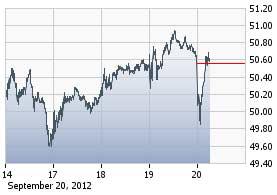 In addition to serving as the main automation contractor for the Quad 204 FPSO, Emerson Process Management is also BP's preferred supplier of integrated control and safety systems for five offshore fields in the U.K. continental shelf, including the new Clair Ridge platforms. BP relies on Emerson's offshore expertise, technologies, and services to help it get to first production more quickly and easily, optimize production and yield, avoid environmental impact, and operate safely.
Emerson Process Management (www.EmersonProcess.com), an Emerson business, is a leader in helping businesses automate their production, processing, and distribution in the chemical, oil and gas, refining, pulp and paper, power, water and wastewater treatment, mining and metals, food and beverage, life sciences, and other industries. The company combines superior products and technology with industry-specific engineering, consulting, project management, and maintenance services. Its brands include PlantWeb™, Syncade™, DeltaV™, Fisher®, Micro Motion®, Rosemount®, Daniel™, Ovation™ and AMS Suite.
Emerson (NYSE: EMR), based in St. Louis, Missouri (NYSE:USA), is a global leader in bringing technology and engineering together to provide innovative solutions for customers in industrial, commercial, and consumer markets around the world. EMR is comprised of five business segments: Process Management, Industrial Automation, Network Power, Climate Technologies, and Commercial & Residential Solutions. Sales in fiscal 2011 were $24.2 billion. For more information, visit www.Emerson.com.
****

Avnet, Inc. (NYSE:AVT)
Avnet Technology Solutions, a global IT solutions distribution leader and an operating group of AVT, unveiled enhancements to its business development toolset for its Oracle solution provider partners in the U.S. and Canada. The Avnet-exclusive tools are designed to help Oracle PartnerNetwork (OPN) partners increase their revenue and profitability by identifying Oracle upgrade and upsell opportunities, specializing in high-growth markets, managing demand generation campaigns, and implementing a solutions-driven sales methodology.
Avnet's enhanced business development tools for OPN members are designed to complement each other and be used in conjunction with a complete marketing and sales program, significantly accelerating the sales management process.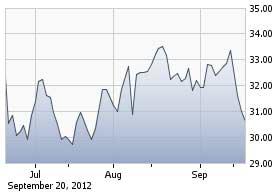 As a global IT solutions distributor, Avnet Technology Solutions collaborates with its customers and suppliers to create and deliver services, software and hardware solutions that address the business needs of their end-user customers locally and around the world. The group serves customers and suppliers in the Americas, Asia Pacific, and Europe, Middle East and Africa. It generated US $10.8 billion in annual revenue for fiscal year 2012. Avnet Technology Solutions is an operating group of Avnet, Inc. For more information, visit www.avnet.com.
Avnet, Inc. (NYSE: AVT), a Fortune 500 company, is one of the largest distributors of electronic components, computer products and embedded technology serving customers globally. AVT accelerates its partners' success by connecting the world's leading technology suppliers with a broad base of customers by providing cost-effective, value-added services and solutions. For the fiscal year ended June 30, 2012, Avnet generated revenue of $25.7 billion. For more information, visit www.avnet.com.
****

Crown Equity Holdings Inc. (OTCPK:CRWE)
CRWE has launched a online service company CRWE Direct. CRWE Direct (www.crwedirect.com) is an online business-to-business marketplace for manufacturers and small to large businesses to purchase various types of merchandise. Manufacturers may start downloading their product immediately, free of charge during the next six months. Thereafter, there will be various annual fees. The listing process and image loading for both sites are user-friendly.
Furthermore, CRWE Tube (www.crwetube.com ), a video sharing site of CRWE, allows billions of people around the world to upload, watch and share original videos. With online videos continuing to experience explosive, viral growth and the web rapidly moving from text to video, businesses will need to adapt to the shift in video distribution technology or quickly become irrelevant to their consumers who anticipate seeing video everywhere online.
CRWE offers advertising branding and marketing services as a worldwide online multi-media publisher with its digital network of websites and focuses on the distribution of information for the purpose of bringing together a targeted audience and the advertisers that want to reach them. Crown Equity Holdings advertising services cover and connect a range of marketing specialties, as well as provide search engine optimization for clients interested in online media awareness. For more information about Crown Equity Holdings Inc. visit www.crownequityholdings.com.
***********
THIS IS NOT A RECOMMENDATION TO BUY OR SELL ANY SECURITY!
Disclaimer: CRWENewsWire.com publisher and its affiliates and contractors are not registered investment advisers or broker/dealers. (Read Full Disclaimer at http://crwenewswire.com/disclaimer).
www.crwenewswire.com/150251/business/eme.../
Disclosure: I have no positions in any stocks mentioned, and no plans to initiate any positions within the next 72 hours.