VisionChina Media Inc. (Nasdaq:VISN)
VISN will report its financial results for the third quarter of 2013 after the U.S. markets close on November 18, 2013.
Shares of VISN skyrocketed $1.80 (or +20.36%) to $10.64 on Friday's trading session.
For the second quarter of 2013, VISN posted substantial financial improvements, with total revenues of $26.7 million, increased by 56.3% sequentially, and gross profit of $4.5 million compared to gross loss of $5.1 million in the previous quarter.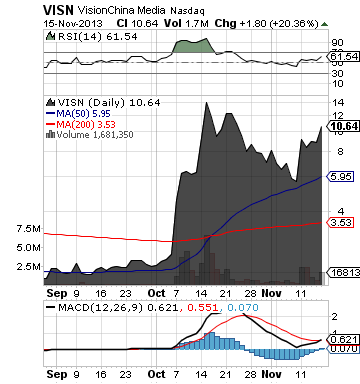 VISN operates an out-of-home advertising network on mass transportation systems, including buses and subways.
More about VisionChina Media Inc. (Nasdaq:VISN) at www.visionchina.cn
**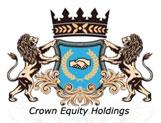 Crown Equity Holdings Inc. (OTCPK:CRWE)
The increased use of video advertising and also video viewing continued again in 2013 and will increase again and again for the next five or so years according to industry trends.
According to Break Media, video ad spending will reach $5.4 Billion by 2016.
CRWE is looking to deliver value for its stockholders in both the near and long term, and to improve the potential future growth for the company, CRWE is targeting the multi-billion dollar online video-sharing market.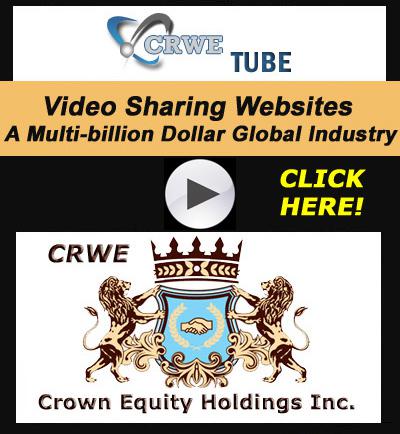 Strategic plans are being developed for CRWE's Division CRWETube (www.crwetube.com).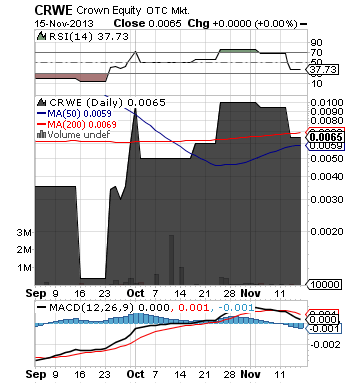 As a worldwide online multi-media publisher, CRWE's advertising services cover and connect a range of marketing specialties, as well as provide search engine optimization for clients interested in online media awareness. The company launches, invests and manages select businesses, projects and real estate endeavors.
More about Crown Equity Holdings Inc. (OTCPK:CRWE) at www.crownequityholdings.com.
**

Biostar Pharmaceuticals, Inc. (Nasdaq:BSPM)
The price of BSPM stock soared $0.48 (or +22.64%) to $2.60 per share after the company reported a substantial improvement on revenues and gross profits in its unaudited financial results
For the third quarter 2013, BSPM posted revenue of $15.01 million, increased by $5.04 million over the same period of the prior year, and gross profits of $6.94 million, a 32.5% increase year over year.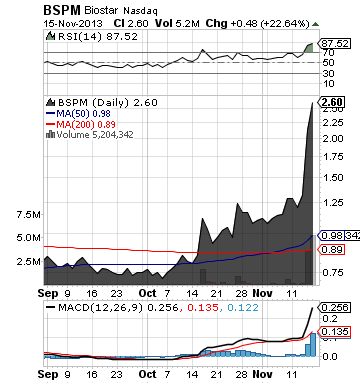 BSPM through its wholly owned subsidiary and controlled affiliate in China, develops, manufactures and markets pharmaceutical and health supplement products for a variety of diseases and conditions.
More about Biostar Pharmaceuticals, Inc. (Nasdaq:BSPM) at www.biostarpharmaceuticals.com
**

Tetra Tech Inc. (Nasdaq:TTEK)
Shares of TTEK climbed slightly $0.19 (or +0.66%) to $28.87 on Friday's market activity. The company was upgraded from Hold to Buy and price target of $32.00 by brokerage firm Brean Capital.
TTEK expects diluted EPS for the first quarter of fiscal 2014 to be in the range of $0.35 to $0.40.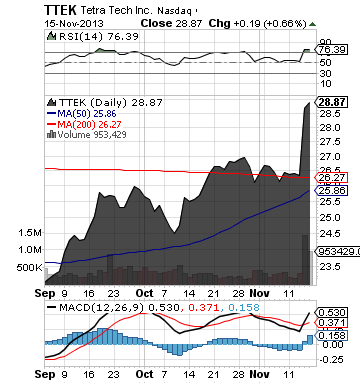 TTEK is a leading provider of consulting, engineering, program management, construction management, and technical services.
More about Tetra Tech Inc. (Nasdaq:TTEK) at www.tetratech.com
**
Read full disclaimer at www.mikezaman.com/disclaimer
mikezaman.com/27184/stocks/visionchina-v.../
Disclosure: I have no positions in any stocks mentioned, and no plans to initiate any positions within the next 72 hours.