This is the continuation of a discussion on the Hindenburg Omen which was originated by our friend John Lounsbury 3 years ago. Again, we offer a great big "thank you" to John for having maintained this series of instas for over a year and a half... until I finally learned how to create an insta by myself and take this endeavor off his hands. I'm beginning to wonder if this might be the longest running series of instas on Seeking Alpha. Not that that matters of course but I don't think John nor I realized what a monster he'd started a full 3 years ago. Imagine that!
In any case, the preceding blog can be read here. For further reference, or to read about actual Hindenburg events we have covered including the near misses which occurred in the "week before" and the "day of" the flash crash, the entire series began with John's original post found here.
At this point I'd like to acknowledge that I'm aware of reports by a few very prominent writers that the HO had issued a signal or two back in July. It did not! One of those highly skilled technical analysts is Mr. Arthur Hill who also writes for StockCharts. At that time he had published on StochCharts an article in which he issued a statement that the Hindenburg Omen had triggered. And of course with the stellar reputation Mr Hill has earned [not tomention the stellar reputation of Stochcharts], few questioned him. Except myself of course... because I was aware that he was using rules that had been changed at least two years previous.
He had also reported back in December of 2010 that the HO had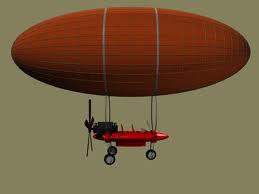 triggered and he was mistaken at that time as well. I'm pleased to report that Mr. Hill has finally become aware of the rule changes that were put into effect by the creator of the Omen, Mr. Jim Meikka. As a result, the article he'd written for StockCharts in July has been amended and/or replaced with this article which is now correct. Note the new word in its title... "ALMOST". Please understand that in no way am I disparaging the fine work of Mr. Hill. His solid reputation and broad skills at technical analysis speak for themselves. It's just one of those things where the changes instituted by Mr. Meikka were not broadcast to the world. I myself was unaware of these changes for a brief period of time.
========Click here for a live and updating blimp image.=========
.
In the chart below we see the latest picture of what the NYSE is doing as well as a very easy-to-follow method of monitoring whether or not the Hindenburg Omen is obeying one of its most important rules, that being whether or not its 50 day moving average is rising. As you can see, that moving average turned higher in late July and has been pointing solidly higher every since. As long as the price of the NYSE is above the horizontal orange line thown on the chart below the HO is on-line:
(click to enlarge)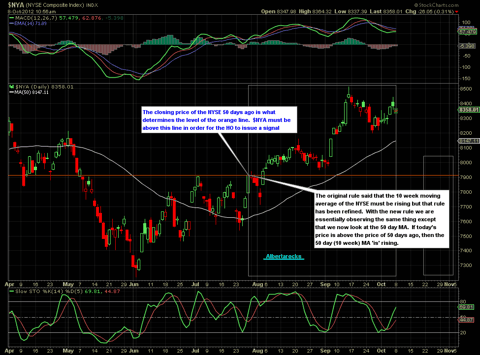 Click to enlargeClick here for a live and updating version which I try to keep updated each day.
Obviously it's been very quiet in here in recent weeks, a reflection of the fact that there has been very little to report about on the HO front. The numbers of new 52 week highs has been rising normally throughout the rally that began in June. But as we enter the final quarter of the year the number of new highs once again begins to fail badly and enters the realm where the HO begins to take notice. In the chart below, we smooth out the statistics a little bit by focusing on the white 7 day moving average of new highs. We only do that for a better 'visual' of what's happening with the new highs but that white moving average line has nothing to do with the inner workings of the Hindenburg Omen itself:
(click to enlarge)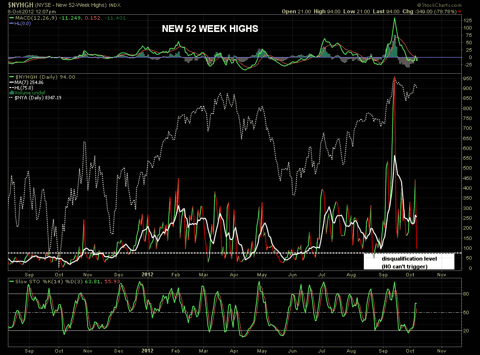 Click to enlarge[Click here for a version which updates each day shortly after the market closes.]
.
Really, there nothing overly ominous with the chart above other than the fact that the numbers of new highs has begun to deteriorate markedly since the mid September high and now resides right in the HO's danger zone.
The question staring all of us in the face today is whether or not the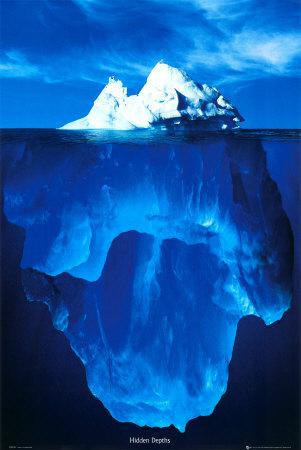 correction has run its course and we head higher from here. With the presidential election only 4 weeks away one would have to think that a market collapse from here would be highly unlikely. The chart above, as well as many other charts pertaining to market internals could indeed support the notion of higher prices but since that's not the purpose of the Hindenburg Omen indicator, we won't try to answer that question in this particular room. Besides, ever since Goldman Sachs purchased the rights to "logic" and has banned it's use, nobody knows where the markets are headed. Nobody but god that is and he's not telling... he's too busy at the helm of the FED, carefully guiding the good ship Earth into the iceberg that lies dead ahead. And of course, as was the case for the Titanic, I fear that the "rudder hard-a-port" command is going to arrive way too late.