This is the continuation of a discussion on the Hindenburg Omen which was originated by our friend John Lounsbury over 3 years ago. The preceding chapter in this series can be read here. For further reference or to read about actual Hindenburg events we have covered including the near misses which occurred in the "week before" and the "day of" the flash crash, the entire series began with John's original post found here.
In the chart below we see the latest picture of what the NYSE is doing as well as a very easy-to-follow method of monitoring whether or not the Hindenburg Omen is obeying one of its most important rules, that being whether or not its 50 day moving average is rising. As you can see, as of the close on November 13, 2013 that moving average is on the verge of heading south. In fact, unless the NYSE puts on a spectacular rally over the next 10 days the HO is about to go off line. And of course if that happens the HO as an indicator can no longer issue a signal. But we will continue to monitor the new highs and new lows anyway since they still provide a great view into the market internals and can help identify when the market is highly polarized with an unusually high number of new lows being achieved at the same time as an unusually low number of new highs.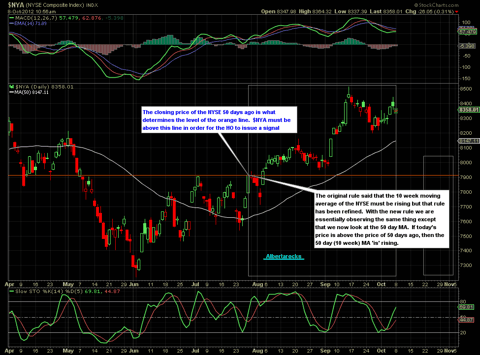 Click to enlargeClick here for a live and updating version which I try to keep updated each day.
As a brief summary of recent activity, we can just state that the HO has really been humming for the past couple of weeks, particularly the past 5 days or so. We've had what should probably be considered as a series of "near misses", the closest one having occurred on Monday, Nov. 12th. On that day had the NYSE been able to register just 9 more new 52 week highs the HO would have issued its first signal since it last went off in August of 2010. As I told the readers back then, even though the Hindenburg Omen hadn't officially gone off, the message was still abundantly clear... the market is at a degree of polarity not seen very often (meaning that while the steady heavy horses were still trying to pull the stock wagon up the hill, nearly as many were on the other end trying to pull it downhill). And as one could easily imagine, those that are trying to pull a wagon 'downhill' are likely to be the winners. And when one of those heavy horses named APPLE (pictured below) is pulling 'downhill', guess which way the market is going to go.
.........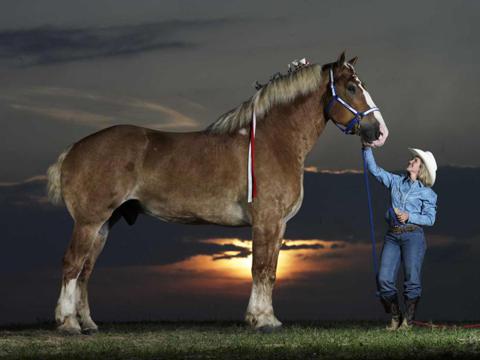 Click to enlarge
Nevertheless, all this scary activity doesn't mean that a rip-snorting rally can't still occur. It certainly can and don't be surprised if it does. In fact, I personally expect some upside action at any time now... at least a bounce. But that's all we should be expecting... A BOUNCE. That's the message from the HO... to be long at this stage in time is a very dangerous proposition.
So we continue to monitor the situation. As always, comments are welcome.