Omnivision (Nasdaq:
OVTI
) posted spectacular earnings last week on remarkably strong growth in demand for its image sensors used in smartphones and digital still cameras.
Speculation
of poor yield at TSMC on Omnivision's chips had sent shares tumbling on February 23 when Baird analyst Tristan Gerra claimed the company was having difficulties manufacturing its Backside Illumination Sensors that were rumored to go into the new iPhone5.
When the earnings report came out, the Baird analyst may have been looking for a place to hide because Omnivision clearly hit the ball out of the park. 
OVTI essentially had a 44% beat on EPS & 43% UPSIDE on guidance.

Let's review the numbers: 
Last Quarter's EPS: (84c actual EPS/58c estimate) = 44% beat
GUIDANCE: Take 63c as the midpoint of their $0.57-0.70 range, so:
(63c EPS Guidance/44c estimate) = 44% upside on GUIDANCE.
Theoretically, the stock should rise 44% on that earnings report because the earnings picture has now completely changed from expectations by 44%.  The first day rally was 30%.
Over the subsequent few days, the stock was up over 30%, so the shares managed to mostly correct malperceptions about company prospects in a New York minute. 
After the Baird analyst's negative report on OVTI (timed right before earnings to provide a discount for many OVTI followers who did enough due diligence to disbelieve him), Raymond James came out with in defense of OVTI as stated in a Barron's
report
.
With a low PE and high short interest, OVTI has room to move, but as a trader having taken profits, it may be prudent to wait for OVTI to consolidate back around the $28 level and wait for any market decline before stepping boldly back in.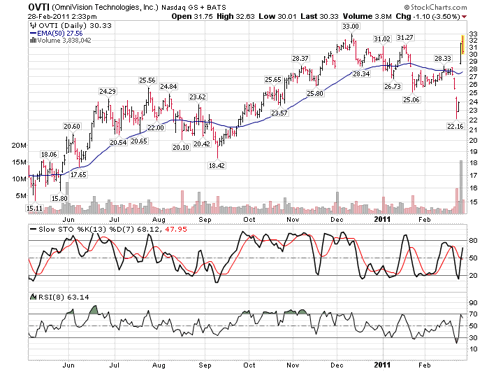 This stock has room to rise over the next year, with sales expected to triple owing to strong smartphone sales and the release of the iPad2 which may have Omnivision sensor chips on board (two cameras per iPad2 will double sensor sales per iPad sold).
Disclaimer: The author makes no warrant for the accuracy of the content herein other than the links provided to traditional online sources of information for verification purposes. Additionally, investors shall not take any comments stated herein as advice to buy or sell any equities and if investors do so, they acknowledge that they have done their own proper due diligence and proceed at their own risk.  Currently no position in OVTI, but looking to be long calls on a good pullback.