Gilead Sciences reported a solid earnings report on Tuesday February 4. The bio-pharmaceutical company beat Q4 EPS by $0.05 and revenue by $270M, up 20.5% y/y. Q4 sales growth was largely attributed to accelerated sales growth of its HIV drugs Stribild which grossed $203M, up from $40M a year ago and Complera sales more than doubled, grossing $262M. Sales rose for both antiviral products 22% and cardiovascular products 25%. The publicized launch of potentially blockbuster hepatitis C drug Sovaldi grossed $139M in December. In the trading session following the announcement, shares reached $82 before retreating to $75.50 finding support at the 50MA. The reason behind the surprising pullback was after Street's expectations for Sovaldi have skyrocketed as Baird reported initial sales data indicated 2014 sales may exceed $5B, boosting its price target to $103 and upgrading the stock to Outperform, analysts were surprised by the lack of guidance in the earnings report for Sovaldi sales in Q1 and 2014. In addition to that Sovaldi's current price premium may come under pressure from Abbvie and Vertex as competition heats up.
Since February 5 the stock has recovered, currently trading close to $82 as Argus raises its price target to $90 from $84 on strong sales of its core products and Credit Swiss upped its price target to $100 on its 2015 earnings estimates. Oppenheimer reiterated its Outperform rating, and price targets were raised by Maxim to $101, Needham $95 and RBC $96, Nomura $119. Goldman Sachs was more conservative raising its price target to $82 citing uncertainty on Sovaldi's success in the long term.
Gilead is expected to present at the annual BIO CEO & Investor Conference on February 11 as well as at the Leerink Swann Healthcare Conference on February 12. Analysts expect to see further clarification regarding Sovaldi sales expectations, pricing and competition.
The stock currently has an Outperform rating and a price target of $99.48 up $8 from a month ago and suggests a premium of close to 20% from current levels. The multiples show a mixed picture with P/E 44.25, P/S 11.09 and P/B 11.41 higher than the industry average, its Forward P/E 14.46, PEG of 1.27 and Gross Margin at 74.50% point to growth potential. Based on biotech and healthcare top holdings, buy-side is very positive on Gilead which has an institutional ownership of 95%.
On the technical side the stock is 3% below its 52W high. The stock is up 8% in 2014 and 100% TTM. Since its bounce off the 50MA, the stock is in a bullish trend looking to breakout of a neutral channel started back in January 16 with the range between $75-$82. A bullish cross of the 10MA and 20MA is looking to occur which may send the stock higher attempting to surpass its 52W high at $84.40.
(click to enlarge)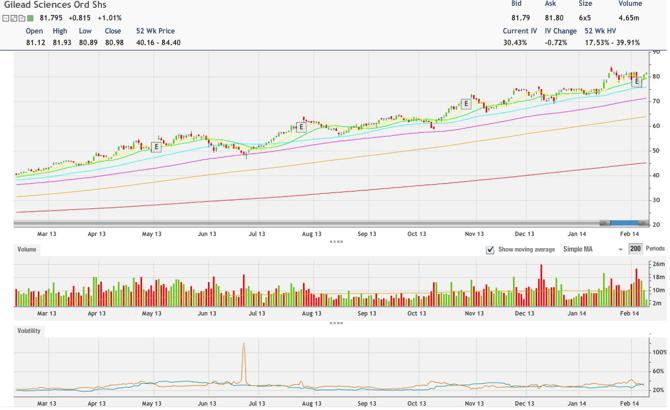 Click to enlarge
Disclosure: I have no positions in any stocks mentioned, and no plans to initiate any positions within the next 72 hours.