Baby boomers quite frequently support their children long after they have left the home. The June 25th issue of Investment News explains that, in general, children remain the largest single expense for baby boomers even after they have left the home. Parental support is lasting longer and longer as a result of the sluggish economy. High unemployment rates have greatly limited the opportunities for those under 30, putting parents in a position where it is tough to say no. Even college graduates are finding it difficult to find gainful employment on top of burdensome debt loads. In these scenarios many children are returning to live with their parents.
All of this is adding to the burden of retirement. Low interest rates, combined with two bear markets in a decade, have led to a situation where retirement accounts are decimated and future returns look anemic. At the exact moment that retirees should be stocking away more of their savings for retirement their adult children are taking a bigger bite.
Over time, the cost of raising a child to the age of 18 has increased dramatically (see below).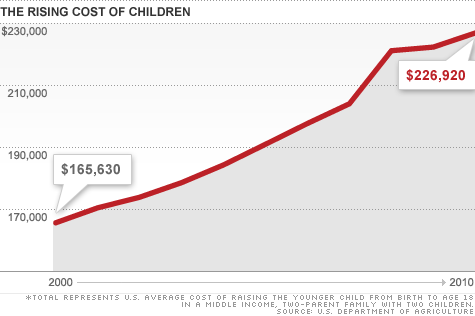 What is interesting is that the above increases don't include costs after the age of 18, like college or moving back home. These costs are rising too; see our article on college costs.
This is a perfect storm for retirees. Raising children is getting more expensive, college is getting more expensive, children are returning home, retirement accounts are hard hit and growth is sluggish. The tightrope walk is difficult and everyone's individual situation is unique, but, in general, I believe retirees need to be vigilant in planning for retirement. Balancing one's own needs should be part of the equation when deciding to help out adult children, cart blanch should not be the default.
The economy is as ugly for those looking to retire as it is for those looking to work. Deleveraging is a slow and grueling process that usually continues until the excess is gone. Baby boomers that are helping support their adult children are probably as dismayed as young workers paying into a social security system they know is a joke. Understanding where your parents or children are coming from will be an important aspect in creating boundaries and will lay the foundation for finding the optimal amount of mutual support.