When Looksmart's CEO Jean-Yves Dexmier advised all (within the CC following Q2 2012) that "The devil is in the detail", I had no reason to doubt all that he had said.
He was talking about Looksmart's ....'enabling [of] advertisers, who are primarily focused on search-based advertising and publishers, who mostly provide display opportunities...to [then] directly meet and efficiently settle-in real time-[with] individual search ad placements."
In this (exclusive) global marketplace, the Co becomes the (independent) 'plumbing' that allows the above to happen. (Besides all the many other benefits that have been discussed here on my blog, of late.) ..Ultimately (?), providing what has been a long wait for "Search meeting Display".
[.........at Looksmart - "We Are Looking At The IP" [address] ...]
Microsoft to 'introduce' New Ad Units at Advertising Week.
(And are they also [virtually] introducing what becomes access to the long awaited Microsoft, Yahoo, AOL publisher base & what, then ultimately evolves to become the next step - or, a one global - real-time OPEN marketplace?)
Within (a) today's AdExchanger article there's a mention of a perceived value of Microsoft and it's portal brethren, Yahoo and AOL.
Rik van der Kooi, Microsoft's corporate VP, advertiser and publisher solutions tells all (today) that "the new Windows 8 OS is a chance for Microsoft to introduce new and creative opportunities for marketers."
Rik Van der Kool talks of ads that are designed to extend the reach of marketers across Microsoft's owned-and-operated properties to its Xbox Live entertainment hub, and an opportunity for marketers of a, mass contact with users across multiple screens & of the 40 million members who use the service - Ads that also include AOL's large Project Devil ads.
In fact (Van de Kool advises), the new Windows 8 OS will be open to using the Interactive Advertising Bureau's "Rising Star" ad units, which include Project Devil formats.
How interesting....
Targeting (individual) USERS in real time.- On the SERPs or, where they next land? (That will now finally get to include, across Team YahMicAOL and on the new Windows 8 OS)
On Sept 15, 2011 (in this instapost), I had posed the thought, that:
"If marketers were able to fully determine who the users are who make the many search queries (on or, about their own product or, service - being offered by another) they could then get to target that very 'user intent' from those same users with attractive (rich media type?) banner Ads. (And on whatever publisher site they next land on, across the web.)"
Search ReTargeting and (Real Time) Search Targeting (Of users)
(click to enlarge)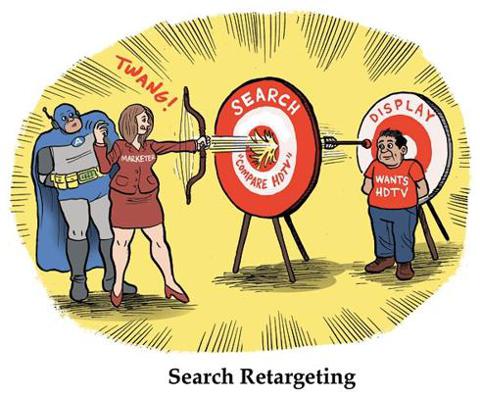 Click to enlarge
(Courtesy, AdExchanger)
It's (ultimately) what "Search meeting Display" is all about! (All, from within, a one marketplace)
And all - only an opinion, as always.
LOOK: $0.81

0.08 (-8.97%) 3:59PM EDT
LC
ps; The ad industry responds to Microsoft's Do Not Track plans
Disclosure: Long LOOK
.