Jim Yu (in an excellent piece from Search Engine Land) points out some of the Differences In the New Google SERPs that really helps to support what I feel - eventually leads to that (my much talked of) intersection of search and display.
Where Microsoft's stand on DNT and any such Sharing of a user's PII (personally identifiable information), then becomes an accepted protocol by all involved, and across the entire web.
Jim Yu (who apparently lives in the LA, Cal. marketplace), explains it in part, as follows:
"if I type in [Toyota], you see a similar pattern - a set of seven results, with the first result having breakout sitelinks. In addition to the seven organic results, there is "a Places pack" also with links to Toyota dealerships near my location (set to Los Angeles, California)."
(click to enlarge)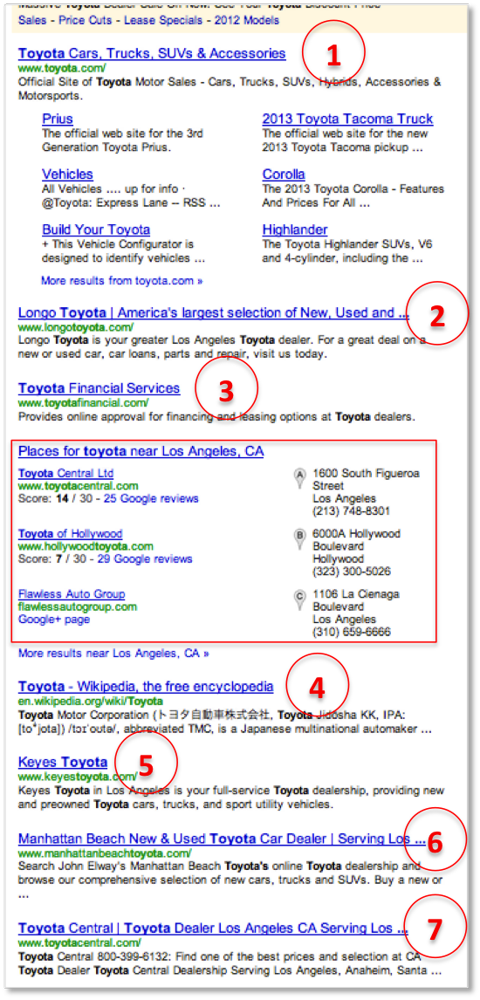 Click to enlarge
I have (today) asked the $64 question in a comment made to this post (here) as to just how long will it be before advertisers [in marketplaces around the world--being "local" to a user, as is shown within the above Jim Yu screen shot] get a chance to bid for positions (all in real time) for ads of these type across ALL search results, in a ONE marketplace? (One marketplace, that will include Google, Bing [Yahoo/Microsoft], Amazon search, etc)
[With] The Looksmart Solution
There is NO personally identifiable information of individual users involved here, as it all happens "in real time". And being so, there becomes only the ONE 'manager' during the entire process of this totally independent 'one-fits-all' (marketplace) solution. (A good-bye to the DNT kafuffle?)
Search Targeting (Across a ONE, huge publisher base.)
All such, 'in market' type users (based on a search query) can then be found by advertisers blindly bidding against each other - across an entire global marketplace that can include 'social', such as Facebook and Twitter.
With the 'anonymous identifier' safely secure in that single management control/interconnector's safe keeping. - And in quoting Simpli.fi:
.......This means the user behind the search you are targeting can originate in Google and still be accessible when s/he lands on a website in the Microsoft family of websites within seconds of performing her/his search." - http://bit.ly/W0f0fi
And with access (also) to the 1 billion or, so members, that there are on Facebook? (Does it now become a case of - watch this space?)
For Facebook?
Within that above Facebook 'link', an article from Marketing Land (by Kevin Ryan) talks of Facebook, and future prospects for search. - I'm thinking that a (that above) Looksmart "solution" is more likely a/the thought that's occupying Mark Zuckerberg's mind at this very moment (or, should be), with search to possibly come along, some time later.
And...it just so happens, that.....

Facebook's Testing A Navigation Bar Layout With Notifications On The Right Near Ads And Gifts | Techcrunch
< ......The reasoning for this "A/B test" might be that Facebook wants to put more focus on the right-hand side of the site, which is the place that houses birthdays, engagement or marriage updates, gifts and (according to TechCrunch), of course… advertising. >
Always, only an opinion.
LOOK: $0.78

0.01 (-1.27%) Oct 11, 1:17PM EDT
LC
ps; (Thanks to John Battelle's Friday Signal - tiny.cc/nxx1lw)
Senator Opens Investigation of Data Brokers (NYSE:NYT) Concerned that "an unprecedented amount" of personal information about people could be collected, mined and sold to the potential detriment of consumers, Sen. John D. Rockefeller IV (D - West Virginia), chairman of the Senate Committee on Commerce, Science and Transportation, has opened an investigation into nine leading information brokers.
pps;THIS must surely be stopped! (Users being 'held to ransom'?)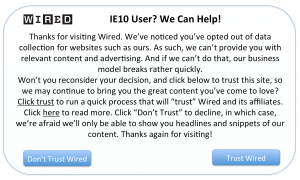 Above contained in: Legislators slam advertising group for advising members to avoid Do Not Track technology
Disclosure: Long LOOK and excited to be so!
.