"We are discontent with our performance and results in the third quarter. The Special Committee of the LookSmart Ltd's Board continues to seek and evaluate indications of interest and other strategic alternatives."
And that remains as ALL that Looksmart's CEO Dr. Jean-Yves Dexmier had to say (there was no Conference Call, held) in declaring the quarter's Total revenues of $3.9 million and a Net loss of $2.7 million, or ($0.15) per diluted share.
[Q3] Revenue Increase plus Display on a CPM or CPC basis
That there was an 8.4% increase in revenues Q/Q during this quarter of discontent-and the fact that the Company had advised on July 17th that it had planned on introducing Display Capabilities (whereby the existing advertising base were to be able to then get to buy display advertising on a CPM or CPC basis-with access to a majority of exchange inventory) wasn't even worth reporting to shareholders about? Of any progress?
This Alexa chart below (showing the daily traffic trend to the home of Looksmart's AdCenter marketplace) would suggest that something has boosted traffic during the 3rd month of Q3 - the month of September.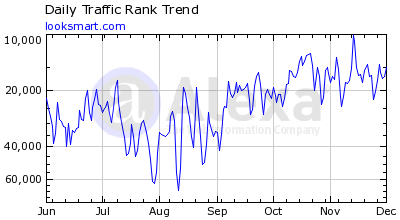 Traffic, that twice got below a ranking of 60,000 during the Q3 period, is now moving closer to a more than respectable ~16,000 ranking. This all started in Q3, yet wasn't worth a mention? - tiny.cc/rhjsow
What I am saying is that Q3 (in real terms) had an increase in revenues Q/Q of some $300,000 + there's an additional $522,000 to it's debtors (on Q2) or, some $0.82M more revenue than the $3.6M had in Q2 - and clearly due to the introduction of CPM/CPC type impression buying in Q3 or, since 17th of July. That's an increase in the Co's advertiser network's comprehensive income (revenues, Q/Q), of some 24.8%!
And of the stated $2.7 million loss (for Q3) in spite of some $0.6M being attributed to the PEEK Circus, some $0.2M (restructuring expenses), & $0.4M (capitalization of internally developed software) are one-off costs, and are (collectively) representing another $1.2M of that declared loss.
Shareholders (count me as one) are "discontent" too, Jean-Yves! And they are well and truly entitled to be so.
Only an opinion.
LC
Disclosure: Long LOOK and discontent!
.